Gareth Bale's sensational solo goal against Barcelona in the Copa del Rey final on Wednesday night compelled some of the Spanish sports dailies to splash with the headline "Usain Bale" and "Gareth Bolt", and now Valencia police have handed the Welsh winger a mock speeding ticket.
The Real Madrid forward scored the most important goal of his career at Valencia's Mestalla Stadium, and the local constabulary have capitalised on one of the goals of the season in amusing fashion.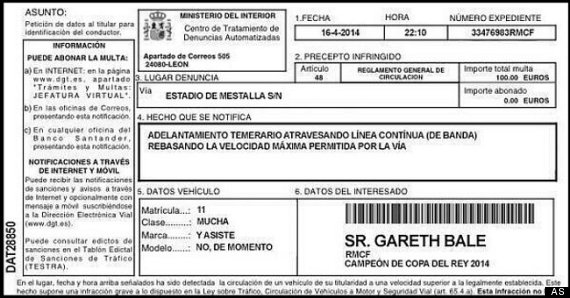 Señor Bale's speeding ticket, courtesy of Valencia police
Spanish newspaper AS said the 24-year-old was charged with "reckless over-taking and crossing the continuous white line while exceeding the speed limit" as he scored the winning goal.
Some of the comedy details are quite charming, too...
Registration number: 11
Class: Much
Make (spelt as "Marca", which also translates as "score"): and assists
Model: No, not at the moment