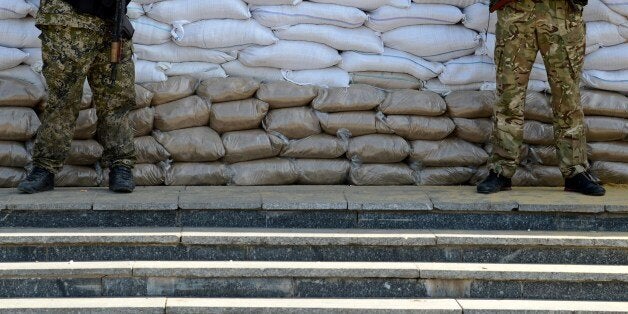 Jewish residents of Donestk, Ukraine, have reported being given flyers outside of a synagogue requiring them to "register" their citizenship and declare their property.
According to reports first circulated by Israeli news site Ynet and USA Today, the pamphlets were delivered by masked men holding the Russian Federation flag and directed Jews to a government building currently occupied by pro-Russian forces.
But Denis Pushilin, the Russian separatist whose name is on the flyers, claims he has nothing to do with them, and that the documents were spread to make his side look bad.
US Ambassador to the Ukraine Geoffrey R Pyatt called the flyers the "real deal" and said they were "chilling" in an interview with CNN.
In Geneva, where diplomats held emergency talks on the Ukrainian crisis, US Secretary of State John Kerry called the leaflets "grotesque" and "beyond unacceptable."
But the Jewish community has said in a statement that relations between the Jews of Donetsk and their neighbours are amicable, CNN reported.
Pushilin has said the handwriting on the flier wasn't his, and the title attached to his name was not one he uses.
It still is not clear who had distributed the leaflets, but the chief rabbi of nearby Dnipropetrovsk said, "Everything must be done to catch them."
"It's important for everyone to know its not true," said the rabbi, Shmuel Kaminezki. "The Jews of Donetsk will not do what the letter says."