The former Formula 1 driver, who celebrated his 35th birthday two years ago, won the 6 Hours of Silverstone to claim the RAC Tourist Trophy with team-mates Sebastien Buemi and Nicolas Lapierre after a drama-filled race that began in a frenzy and finished in a downpour to set the Japanese team off to a perfect start to the season.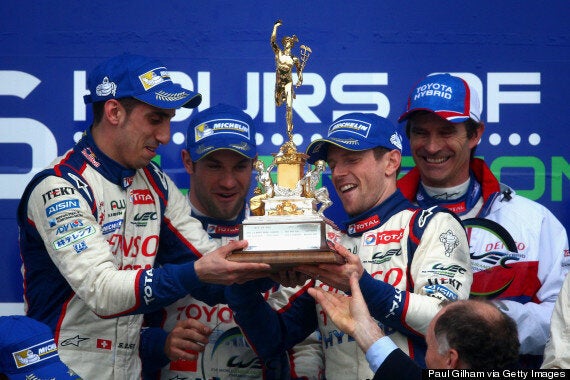 Sebastien Buemi, Nicolas Lapierre and Anthony Davidson celebrate with the Tourist Trophy
"I'm ecstatic. It was going pretty well until the rain came and like any wet race, that throws it all up in the air and mistakes happen. Luckily we read the race right and we we didn't make any mistakes. We are always pushing as hard as we could," he told The Huffington Post UK.
"I'm very happy with what we've achieved. It was a race of survival but also one where you had to show your true speed... and we managed to do that."
A technical problem from a damaged capacitor meant an older one had to be fitted to Davidson's TS 040-Hybrid car after practice, giving it less power but once the rain came during the race, there was little to worry about.
"We were really on the back foot in qualifying in the dry conditions," he said, "but the rain was a bit of a leveller with less emphasis on power and that's really where we got stuck in and delivered the goods.
"We needed the rain today but we always knew it was going to be wet and mix things up... so we set the cars up accordingly with downforce to combat that as much as we could do."
Although the race was stopped before the chequered flag because of the downpour, Davidson believes that was the right decision, something that other drivers, including Porsche driver Mark Webber, agreed with.
"It's a shame not to see the chequered flag after six hours but the right call was made from a safety point of view," Davidson continued, "I'm over the moon with how everything has gone today."
Looking ahead to Spa in two weeks and the rest of the season, Davidson admitted Toyota were in a good position after a race where they hadn't expected to do so well.
"On paper, Silverstone and Spa should have been our weaker circuits with less recovery for the hybrid systems under braking because we do all of ours under the braking and we haven't got the advantage of a turbo to harvest in a straight line like Porsche.
"Because you just don't brake much around this track - Silverstone is all high speed corners and fast and flowing - you never get a chance to recover enough energy, so that really puts us on the back foot here and Spa. Once we've got these two races out of the way, things should get easier. But we were already on the pace here, so you just never know."