A pro-Kremlin politician apparently yelled at his aides to "violently rape" a pregnant journalist who had asked him about sanctions against Ukraine.
Nationalist politician Vladimir Zhirinovsky is seen to wave his arms wildly at the Russia Today journalist Stella Dubovitskaya, who asked a seemingly innocuous question about whether Russia should reciprocate that has been implemented against Russian men in the Ukraine, according to RT.
Apparently then calling Ukrainian women "nymphomaniacs", Zhirinovsky is said to have accused the reporter of also being a sex addict, and began reciting Christian sayings, RT said. The reporter replied she was pregnant.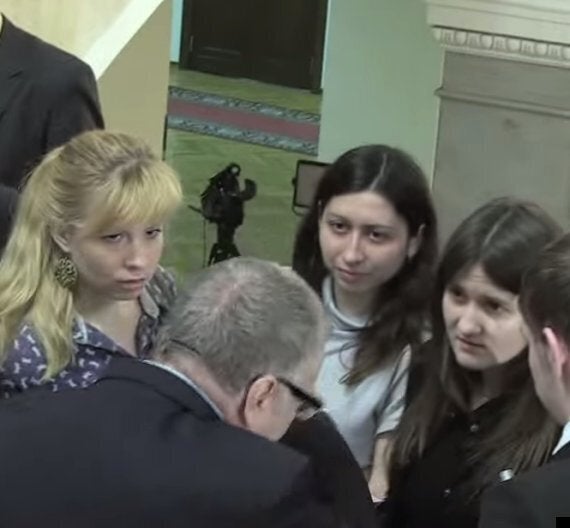 The politician attacked Stella Dubovitskaya, centre, and forced her from the press conference
"This is no place for a pregnant woman," Zhirinovsky, the leader of the nationalist Liberal Democratic party said, according to RT's translation. He then appears to turn to to aides and order them to "violently rape her" when he gives the order.
As two aides approached Dubovitakaya, several journalists block the path, jumping to her defence. "She is pregnant, why are you attacking her?" one said.
Yulia Chuchalova, from the Russian news agency Interfax, attempts to step between the aides and Dubovitskaya, asking why Zhirinovsky is using such "derogatory" language. "Stop interfering here, you lesbian," Zhirinovsky replies.
Russia Today told the Daily Mail they plan to take legal action.
"Due to the disgusting incident in the state duma, after which our correspondent was hospitalised because of Vladimir Zhirinovsky's discourtesy, we have decided to use all legal options to punish Mr Zhirinovsky as severely as possible under the law, including by suing him," said RT's station chief Margareta Simonyan.
Zhirinovsky has now apologised in a live television interview. "When talking to the press in the Duma on Friday, answering questions at the end, I spoke a bit rudely when I replied to a young woman.
"I offer my apologies to her and to everyone, if I happened to offend someone," he said.
"Many people have already become used to his extraordinary behaviour but when he allowed himself to openly call for violence within the walls of State Duma all journalists of our agency and colleagues from other media organisations were outraged," Dmitry Gornostayev of Russia Today told euronews.
Zhirinovsky is well-known in Russia for his frequent rages against the media and fellow politicians, furiously anti-Western, having previously described Britain as Russia's "worst enemy of the last few centuries".
Popular in the Community