Kate Middleton and Prince William have taken in paintings made of wallaby droppings as they visited Uluru on their tour of Australia.
Bushwhacker Barbara Nipper Tjikatu had a basket of the paintings on paper, using animal poo in a method invented by local community workers, when she met them.
The paintings are made from the droppings of the local endangered Rufous Hare Wallaby, or Mala, collected by park rangers around the rock, boiled and washed and mixed with a bit of glitter, The Daily Mail reported.
The Duchess of Cambridge described Uluru as "absolutely stunning" from the air. Kate and William saw the feature as they flew to the remote town of Yulara, close to the popular attraction, which is also known as Ayers Rock.
Before touring the landmark, a sacred site for the Aboriginal community, the couple visited the National Indigenous Training Academy to present recent hospitality and catering graduates with their certificates.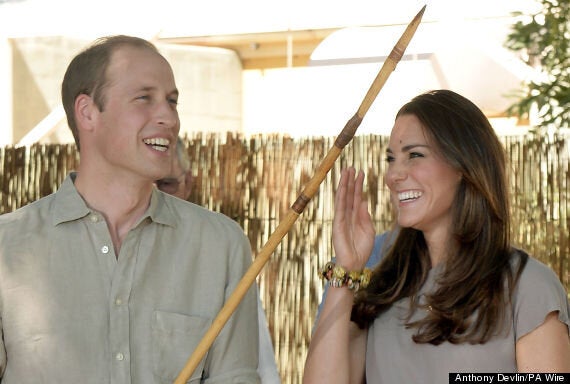 Wills and Kate took in wallaby poo paintings at Uluru
The Duke and Duchess met well-wishers who gathered in the grounds of the academy, and Kate chatted to Amanda Bartels, 30, who had driven for five hours from Alice Springs to see the royal visitors.
Speaking about Uluru, Kate told Ms Bartels, who was holding her 10-month-old son Nathan: "It's absolutely stunning from the air."
During the visit William was presented with a spear by a husband and wife, indigenous couple Kamurin and Sherelle Young, who are students at the Academy and hope to become managers in hotels.
Mrs Young said afterwards: "William was pleased, he was so thankful. I told him it was made from wood from the Mulga tree and that it had kangaroo vein, used as twine, on it he was shocked he said 'Wow'."
Related