An American journalist held by pro-Russia militia in Ukraine's east is a "bargaining chip" for the activists to deal with Kiev, Slavyansk's self-declared "people's Mayor" has told reporters.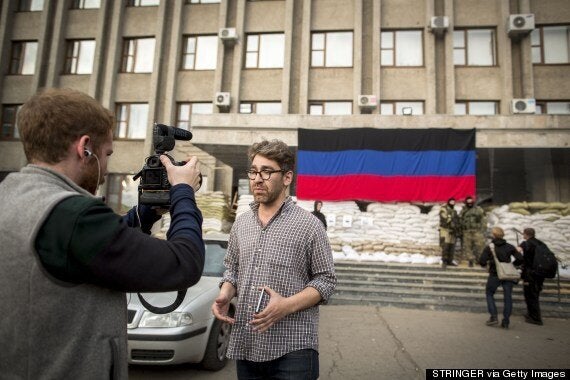 US journalist Simon Ostrowsky (C) working in front of the City Hall of Slavyansk
"There's nothing wrong with Ostrovsky. He is with us, he is feeling well and in a clean place," Ponomaryov said. "He is not a hostage but our guest. We only gave him a place of residence."
Ponomarev told Russian station NTV that Ostrovsky was being detained because of his dual nationality, and "sources" had linked him as an informant to Ukraine's Right Sector, a neo-fascist movement.
"He's with us. He's fine," Khorosheva said, adding that it was not the group's intention to "exchange him for someone."
"We need to be careful because this is not the first time we're dealing with spies," Khorosheva said, saying the journalist was suspected of spying for Right Sector "and other enemy organisations."
State Department spokeswoman Jen Psaki said US authorities are "deeply concerned" about Ostrovsky's captivity. "We condemn any such actions, and all recent hostage-takings in eastern Ukraine, which directly violate commitments made in the Geneva joint statement," she said. "We call on Russia to use its influence with these groups to secure the immediate and safe release of all hostages in eastern Ukraine."
His employers said in a statement yesterday: "VICE News is aware of the situation and is in contact with the United States State Department and other appropriate government authorities to secure the safety and security of our friend and colleague, Simon Ostrovsky."
Speaking to HuffPost last month, Ostrovsky spoke about his method of filmmaking with Vice. "I'm sort of looking at it in terms of what I can see, where I go, instead of trying to say everything that's happening here in one report," Ostrovsky said. "I just try to tell what it's like on the ground from my own perspective, from having been there and seen what I've seen."