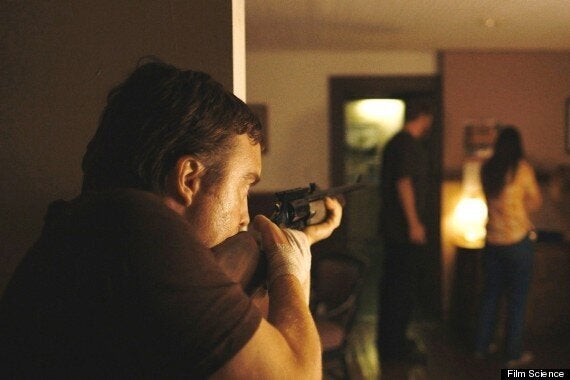 Macon Blair plays Dwight Evans, a mysterious outsider whose quiet life on the margins is turned upside down when he returns to his childhood home to carry out an act of vengeance. Proving himself an amateur assassin, he winds up in a brutal fight to protect his estranged family.
In our Exclusive Clip above, we see the ominous build-up to Dwight's first kill – he's after the man just released from prison for killing his parents.
'Blue Ruin' came about as a collaboration between two childhood friends from Alexandria, Virginia, who have been making movies together in one form or another since the sixth grade, when they joined forces to film a cops-versus-drug dealers shoot-em-up on a borrowed VHS camera.
For the film, Saulnier cites two main objectives: showcasing his ability as a director and showcasing best friend Macon Blair's prowess as an actor.
"There were very few independent genre films that really put themselves on the line," he explains.
"There was lots of jokey, self-referential material and plenty of loud, found-footage massacres. But there seemed to be a lack of traditional, quiet craft in genre fare.
"Making this was an attempt to fill that void and strike a delicate balance between emotional depth and cheap thrills, catering to both art-house cinephiles and diehard genre fans."
'Blue Ruin' is in UK cinemas from next Friday 2 May. Watch the trailer below...
Popular in the Community