More than 30 dead cats have been found packed into plastic bags dangling from a tree in a New York City suburb.
The horrific discovery was made on Thursday morning in a wooded area of Yonkers by city employees who stumbled across the scene as they arrived to clean it up.
Police Lieutenant Patrick McCormack told the Yonkers Daily Voice: "Some of the cats were in very advanced stages of decomposition."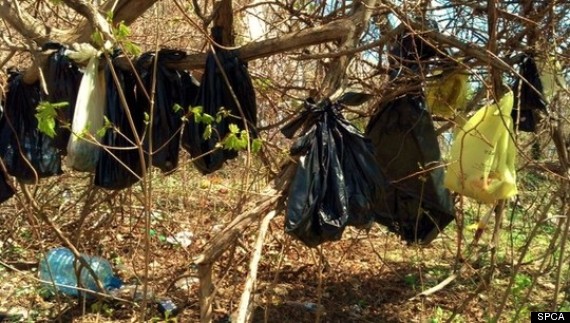 More than 30 animals were found suspended from a tree in a wooded suburb of New York City
Vocativ describes the arrangement of the bags as comprising "a ritualistic display" and says onlookers reported the scene of smelling "strongly of death".
Shannon Laukhuf, executive director of the animal welfare charity the Westchester County SPCA, said: "It's too early to draw any conclusions.
"We've never really seen anything like this. What's so disturbing is the way the cats were hung in bags and arranged. This is obviously the work of someone very deranged."
On Friday a spokesman for the charity told the Associated Press test results on three cats revealed blunt trauma to the head, making it likely they had been beaten to death.
He added that a baseball bat, two shovels and a metal pipe had been found nearby, adding that some cats were skeletons while others had been dead for three days or so.