The University of West London (UWL) joined forces with TRAID, a fashion reuse charity, for a unique project to mark Fashion Revolution Day on 24 April.
The best designs by students Kalaina Hughes and Natsuko Tanaka were selected by TRAID and UWL and were displayed in TRAID's shop window on Camden on 24 April.
The garments included a waistcoat made from woven rugs with hand knitted embroidery and a reversible dress comprised of men's shirts. The overall winner Kalaina, will gain valuable fashion industry experience through a work placement at TRAID.
Story continues below pictures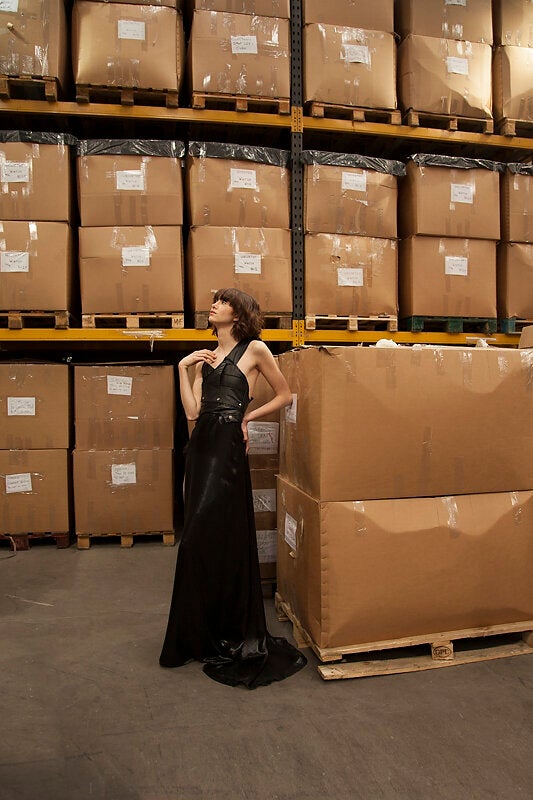 Traid fashion show
Fashion Revolution Day is a global campaign which highlights the one year anniversary of the collapse of the Rana Plaza garment factory in Bangladesh. 1133 people were killed and over 2,500 injured. Their Inside Out theme asks the public to be curious about where clothes are from and their potential human cost.
This project is the second from the UWL and TRAID partnership building on the successful addition of last year's sustainability module to the BA (Hons) Fashion and Textiles course. Additionally, last year's winner went on to intern with TRAID with other participants interning at Christopher Raeburn, Izzy Lane, Roland Mouret and Proenza Schouler.
Rosemary Wallin, Senior Lecturer on the BA Fashion and Textiles course at University of West London, said: "The university has a responsibility to educate future industry professionals about sustainability. Employers are increasingly looking for knowledge and experience of these issues when selecting candidates. The skills gained from projects like this TRAID partnership arm students with the expertise to work ethically and to compete in the jobs market."
Claire Dawson, Retail Product Manager at TRAID added: "Students used unwanted second-hand clothes and textiles donated to TRAID and sourced at their warehouse. Their work to deconstruct and up-cycle garments has encouraged them to extend the life of clothes by using already existing resources, while considering who made their clothes and in what conditions. Showcasing their designs on Fashion Revolution Day marks their commitment to creating a fashion industry based on sustainable and ethical design and production."
Popular in the Community