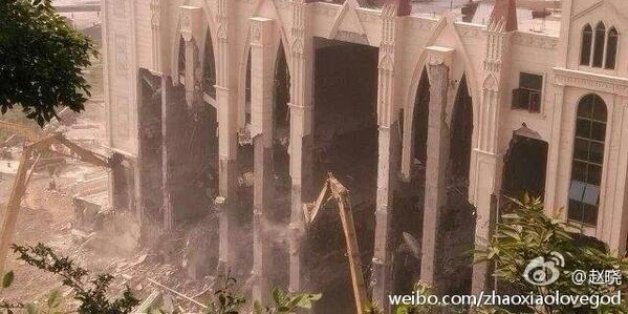 Weibo
Fears of an impending crackdown on Christians are sweeping China as the demolition begins of a controversial Wenzhou church that worshippers had earlier formed a human shield in order to protect.
Earlier this month, distraught members of the 1,000-strong congregation in the city of Sanjiang formed a protective circle around the church last month in a last ditch attempt to protect it from the bulldozers, but withdrew after a negotiations with the government appeared to have been successful.
But the deal appears to have collapsed in recent days, and photos on social media on Monday appear to show demolition teams have swiftly moved in to begin work on the lavish building, tearing down sections of its exterior walls. The site is now heavily guarded by military trucks and police vans.
@wangchuanshi #sanjiang #三江 pic.twitter.com/5JpHEXAkVq

— Lecture en cours (@wangchuanshi) April 28, 2014
"Today the Wenzhou Sanjiang church is being demolished, where will our more than 1,000 believers gather after this? Why tear down our church?" Caoyuan Zhibing posted on Sina Weibo, according to a translation by AFP
Christian Today reported that the dispute was not over religion but planning permission, with the church having "erected a building far larger than they had permission to build".
Granted permission to build a space for worship on about half an acre, the congregation instead built a two-acre church and annex.
Though the Chinese authorities may say this is a dispute over practicalities, the Telegraph reported there are now Communist Party plans to at least partially demolish at least 10 other places of worship.
Bob Fu, a US-based Christian activist, told the paper: "This government-orchestrated barbaric forced demolition represents a serious escalation against religious freedom in Zhejiang. The Chinese regime chooses to disregard its own laws and the will of its best citizens."
Fu, president of the Texas-based group China Aid, said it could lead to a renewed interest in Christianity in China, as a method of resistance. "History has proved and will prove again with this case that another church revival will happen after this new wave of persecution," he said.
The China Christian Council estimates the country has around 20 million Christians, not including Catholics — 70% of them living in rural areas. Many more could be worshipping as part of underground movements.