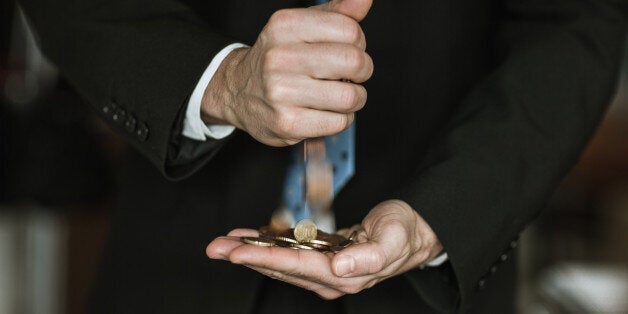 Energy giants are set for a £2 billion windfall over the next three years due to ministers over-estimating how deeply they needed to cut green levies in order for the savings to be passed onto customers, according to new research.
Prime Minister David Cameron ordered that the targets of the Energy Company Obligation (ECO) home insulation scheme should be watered down in a bid to allow energy suppliers to slash £50 per household from bills.
The proposed changes to the energy efficiency scheme could leave households overpaying by up to £23 a year unless suppliers cut bills further or reinvest the money in more insulation, according to research by the Insulated Render and Cladding Association.
The trade body wrote to the Prime Minister in an open letter with other green energy groups, the Daily Telegraph reported, saying: "The actual savings to the 'Big Six' go far beyond the £35 you have persuaded them to give back to customers, representing a £1bn-£2bn windfall to energy suppliers over the next three years."
John Robertson, Labour member of the Commons energy and climate change committee, told HuffPostUK: "This could be yet another example of the government working for the energy companies and not customers. They bowed down to pressure from energy barons to water down green levies without fully looking into the consequences and once again we see that companies may be lining their pockets without passing on the savings to people struggling to pay their bills.
Robertson said that energy regulator Ofgem should "look into this", adding: "If energy companies don't pass on savings to customers in some way, they should be fined double."
Green Party leader Natalie Bennett said: "This is not only one more sign of the government's incompetence, but a demonstration of how it is letting big business skip paying its way in all kinds of areas.
"Britain has the hardest-to-heat homes in Western Europe - the poor standard of our housing is one of the key reasons for our high rates of energy poverty."
"The government should immediately force the companies to up their rate of home insulation. The poorer households that could benefit from this should not be forced to choose between shivering in their homes not winter or cutting back on other essentials like food."
Angela Knight, chief executive of industry trade body Energy UK, said the deal was based on "the best estimates that both companies and government could make".
An Energy UK spokesperson added: "The cost of delivering ECO will vary from company to company but the industry welcomes further transparency to make ECO more open and easy to understand."
A British Gas spokesman said: "In terms of the Government changes to ECO, as part of our January price cut we made it clear that we passed all the benefit of the savings to our customers in full. We were the first supplier to announce the price cut and it applied to all customers whether on variable or fixed tariffs."
A spokesperson for the Department for Energy and Climate Change said it was still analysing responses in its consultation on proposed changes to the ECO scheme and would publish its response before the summer break.
Related