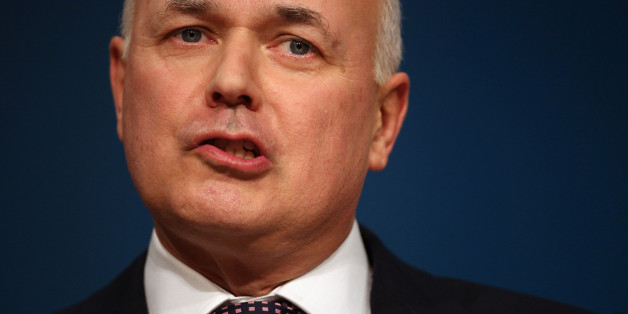 Oli Scarff via Getty Images
Iain Duncan Smith is "wrong" to suggest that the coalition's benefits cuts were helping create a new generation of entrepreneurs, a think-tank has warned.
The work and pensions secretary last week seized on official figures showing that a record 4.5 million people were self-employed was proof that "the entrepreneurial spirit is alive and well" in Britain.
Dr Nima Sanandaji, from the Centre for Policy Studies, wrote in the Daily Telegraph: "The Work and Pensions Secretary was conflating self-employment with entrepreneurship. In reality, the two phenomena are quite different.
"The coalition's benefit reforms may well promote self-employment, which is a good thing in itself. But it is wrong to suppose that reducing benefits will do much for entrepreneurship.
"In order to do that, the coalition should turn its attention to cutting business and personal tax rates and taking the axe to red tape."
Dr Sanandaji found that the UK does not rank among the top 10 countries for producing billionaire entrepreneurs, dubbed "superentrepreneurs", after looking at nearly 1,000 self-made men and women who have earned at least one billion dollars.
There were a total of 22 British billionaire entrepreneurs between 1996 and 2010, including retail tycoon Sir Philip Green and Virgin founder Sir Richard Branson. Britain produced one entrepreneur for every two million people, by contrast Hong Kong produced almost three entrepreneurs for every million, Israel 1.7 per million and the US 1.3 per million.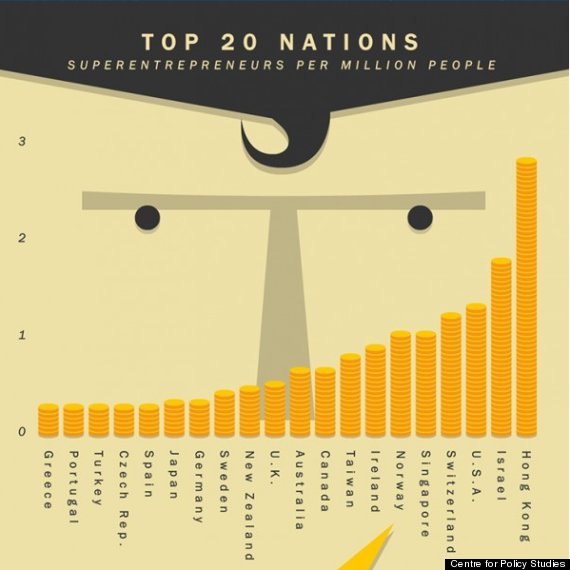 But the study suggested Britain was still better than most eurozone countries when it came to producing successful entrepreneurs - beating Germany, Spain, France and Italy.
The figures on the number of self-employed Britons were singled out as "striking" by the Bank of England. But some business groups say that figures are a good sign for the country's economy.
Emma Jones, founder of small business network Enterprise Nation, said: "Self-employment is delivering economic vibrancy to the UK - in addition to social benefit. The self-employed are starting and growing businesses from home, educating the next generation of entrepreneurs, spending more time and money in their local towns and delivering variety into the business fabric of Britain.
"They are not doing this on account of not being able to find work. They choose to work for themselves. The UK is benefiting from their decision. Far from being an indicator of a weak economy, the increase in self-employment seems to have coincided with rapid economic growth."
This comes as the government unveiled new measures to get the long-term unemployed into work, with people facing benefit sanctions if they refuse to take part.
The government said Jobcentre staff will have more options to support the hardest to help under Help to Work. There will be "intensive" coaching, a requirement to meet an adviser every day or doing community work for up to six months.