Amid the paranoia, jealousy and capriciousness charted in Diego Torres' exposé of José Mourinho is the Portuguese's response to supposed negativity. Defensive football, Mourinho is to have said, "doesn't mean that you're the more cowardly, nor the more brave. What it means is that you're the more intelligent. Because in the end he who is more defensive can end up doing more damage; in that sense he who is more defensive is more offensive." Chelsea certainly did damage to Liverpool's Premier League pilgrimage on Sunday, although they were rarely on the offensive.
"This game will prepare us for Crystal Palace," Liverpool coach Brendan Rodgers disparagingly remarked. "There were probably two buses parked today instead of one.
"José is happy to work that way and play that way and he will probably shove his CV and say it works but it's not my way of working," added Rodgers. "I like to take the initiative in games and let players express themselves. We tried everything we could but our game is based on being offensively creative as opposed to stopping."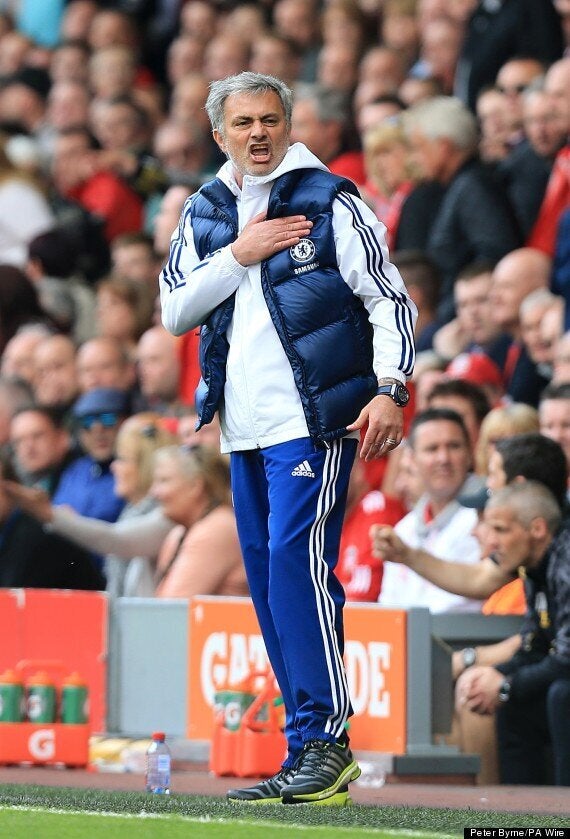 Mourinho enjoyed his third victory at Anfield as Chelsea manager
The origins of "parking the bus" date back to 2004 and Mourinho's seventh game in charge against Jacques Santini's Tottenham Hotspur.
"Tottenham might as well have put the team bus in front of their goal," Mourinho lamented. "Sometimes when you are a big club, a very small club comes to your stadium. Tottenham got a point they shouldn't.
"We wanted to play. They didn't. We wanted to score. They didn't. Every time they just kicked the ball away. It is frustrating for me, my players, for every Chelsea supporter and for every football supporter. Because people don't pay to see one team play and the other team falling down, demanding to see the medical department."
The hypocrisy of that - and "19th century football" - is not lost on Mourinho. He is, simply, one of the finest wind-up merchants in the game and is happy to retain the focus of the media glare, easing the pressure on his players. Sir Alex Ferguson, Rafael Benítez and Arsène Wenger have all instructed their teams to sit deep and defend, but due to a variety of reasons have never generated as much outrage as Mourinho, who openly embraces such pragmatism.
It was astonishing how many took the bait Mourinho dangled at the Vicente Calderón last week. The possibility he could field a shadow side at Anfield compelled some to accuse him of ruining the title race, with Chelsea' five points off the Premier League summit and in the middle of a Champions League semi-final. Liverpool's football - and their attempt to claim a first championship in 24 years a quarter of a century on from the Hillsborough disaster - is a narrative that has enraptured many, and big bad José will be portrayed the villain of the piece should they fall short.
Chelsea were bereft of their best goalkeeper, best defender, best striker and best player at Anfield. Criticism of their style is, frankly, tedious just because they were visiting a side whose manager has championed their "sporting" streak. Chalk and cheese opponents often make for some of the most engrossing spectacles, and Chelsea deserve credit for inflicting a first league defeat on Liverpool this calendar year.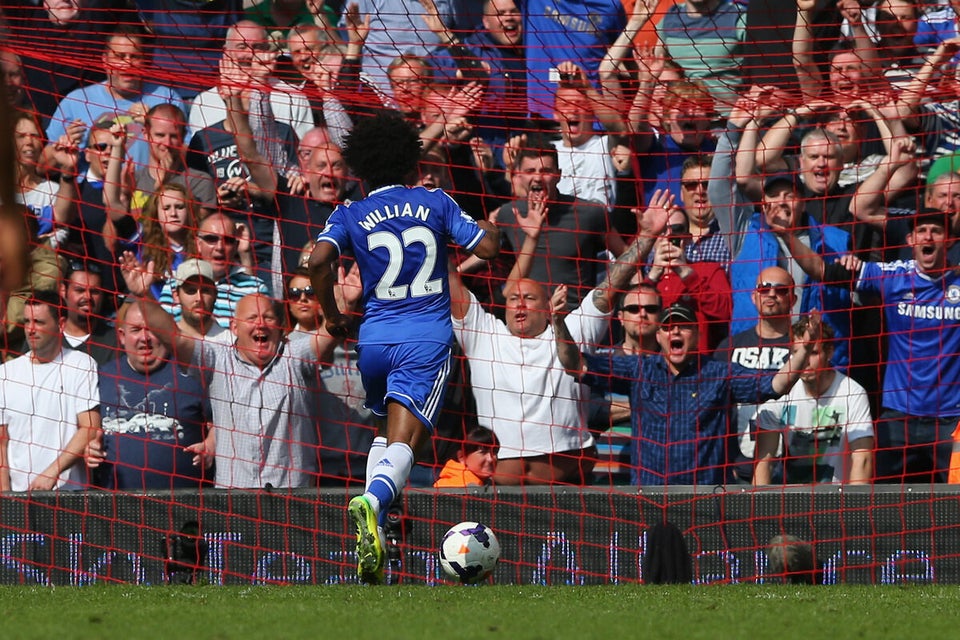 Liverpool 0-2 Chelsea
Giving Tomáš Kalas, who performed superbly, his first ever Chelsea start was comparable to Brian Clough's ballsiness, when he started Gary Mills in the 1979 European Cup final at the age of just 17 years and 201 days. Roberto di Matteo made the mistake of fielding a deliberately depleted Chelsea team consisting of Ross Turnbull, Paulo Ferreira and Oriol Romeu at Anfield ahead of the Champions League final two years ago and was humiliated 4-1. Negative football, arrogance and unwanted attention contributed to Mourinho's departure from west London in 2007, but he is managing remarkably well during what is, effectively, a transitional phase for Chelsea.
Twice last week Chelsea's defensive stubbornness thwarted the table-toppers in two of Europe's biggest leagues. Liverpool had 26 attempts at goal to Chelsea's 11 on Sunday and enjoyed 73% possession, but their strikers were blunt in attack and they were largely reduced to Steven Gerrard pot-shots, which often smacked the advertising hoardings.
Rodgers contributed to Liverpool's impotence, too. The decision not to start Daniel Sturridge was as curious as it was costly, and would have boosted a Chelsea side braced for another breakneck Liverpool start, as is their wont when Sturridge starts, yet instead the home team lacked craft and their best opening was fashioned by Iago Aspas.
Mourinho jogged down the touchline to celebrate Willian's stoppage-time clincher, albeit not with the gusto of his Old Trafford charge as Porto coach in 2004, due to a bug, defiant and triumphant. He and his club were roundly criticised for their conduct during and after their defeat to Sunderland, and the aesthetes were equally damning in their assessment of Chelsea's goalless draw at Atlético Madrid. Yet again, though, Mourinho proved he is the master of versatility at Liverpool and Chelsea could still yet claim a coveted double.