Royal Air Force jets have been deployed to defend Baltic air space as part of Nato's response to the Ukraine crisis.
Defence Secretary Philip Hammond said four Typhoon aircraft, promised in March, had now been sent to the region.
They will take part in the Baltic Air Policing (BAP) mission over Estonia, Latvia and Lithuania, which lack their own air defence fighter planes.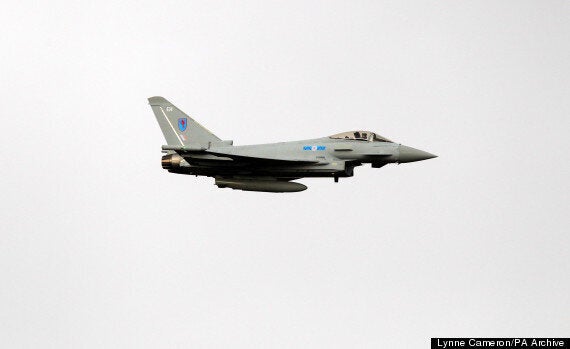 Four Typhoon aircraft have been sent to the Baltic
The move follows heightened tension in the east of Ukraine as pro-Russian separatists have occupied government buildings and clashed with security services. Russia has been accused of interfering in the country and being behind the separatists' actions.
Mr Hammond said: "In the wake of recent events in Ukraine, it is right that Nato takes steps to reaffirm very publicly its commitment to the collective security of its members.
"As a leading member of Nato, the UK is playing a central role, underlined by today's deployment of RAF Typhoon aircraft to Lithuania. This, alongside the other action we are taking, will provide reassurance to our Nato allies in Eastern Europe and the Baltic states.
"Britain must continue to play its part in standing up to Russia's actions, pressing for Russia to change course, and helping the Ukrainian people in their hour of need."
In Ukraine, Kharkiv mayor Hennadiy Kernes was shot in clashes in the town. The BBC reported he was shot while jogging and is currently undergoing emergency surgery.
Mr Kernes used to support Ukraine's former pro-Moscow President Viktor Yanukovych but said he dropped his support for him in favour of a united Ukraine.