Damage to the British economy by sanctions against Russia are a "price worth paying", William Hague has said, announcing a new raft of measures against Moscow.
Fresh sanctions to punish Russia's "bullying" will extend to travel bans and asset freezers, as the crisis in Ukraine rages on, the Foreign Secretary said, adding that plans were also being made for wider trade sanctions.
The move comes with pro-Russian separatists still holding seven European monitors seized in the flashpoint city of Slovyansk - although one was released last night on medical grounds.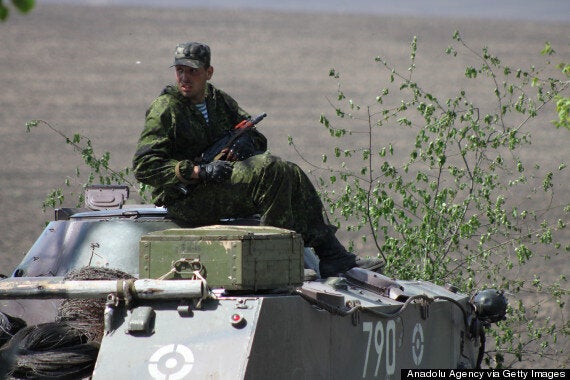 Inspectors of OSCE, Organization for Security and Co-operation in Europe, held by the Ukrainina lebels in Slavyansk arrives for the press meeting led by Vyacheslav Ponomarev (Rear), the self-proclaimed mayor of the city of Slovyansk on April 27, 2014. (Photo by Alexander Ermochenko/Anadolu Agency/Getty Images)
Gunmen are continuing to occupy government buildings in a dozen cities across the east of the country, and the regional TV and radio headquarters in Donetsk have been taken.
US president Barack Obama accused counterpart Vladimir Putin of failing to "lift a finger" to persuade pro-Moscow militants to comply with the Geneva deal intended to defuse the situation.
Speaking on Sky News' Murnaghan programme, Hague said discussions were still going on about the repurcussions but "were likely to be an extension of existing sanctions, of the travel bans and asset freezes on individuals".
"The more names we add to that list the more they do bite in the Russian economy," he said. "But we are also working on more far reaching measures of economic, trade and financial sanctions.
"Of course we have always hoped... that we don't have to go ahead with those things.
"We want world trade to expand and improve. But we will go ahead with them if necessary, if Russia continues to escalate this crisis.
"We will calculate them in a way that has the maximum effect on the Russian economy and the minimum effect on our own economies in the EU."
He went on: "It would be a price worth paying if this situation continues to deteriorate - yes it would.
"The European Commission has done a lot of work on this already so that all European nations would share in the sacrifices that would be involved.
"There would be some price to pay for this country and our allies of such measures.
"But there is a huge price to pay for allowing aggressive bullying behaviour to continue, for a European nation invading another European nation as has already happened in Crimea, breaking all aspects of international law in that regard."
Theresa May is hosting a meeting in London tomorrow on recovering Ukrainian assets stolen under the regime of former President Viktor Yanukovych.
The Home Secretary and US Attorney General Eric Holder have jointly organised the event, which will be attended by Government officials, regulators and financial experts.
May said the Ukraine Forum on Asset Recovery (UFAR) demonstrated the "strong commitment" to helping the authorities in Kiev.
"By taking urgent and immediate steps to provide political and economic stability, the UK, US and wider international community has already demonstrated a strong commitment to the people of Ukraine. This forum provides a further opportunity to show our ongoing support," she said.
"Building on our expertise in the field of asset recovery, it will also provide practical leadership and assistance to the Ukrainian government as they identify and recover assets looted under the Yanukovych regime and introduce political and economic reform.
"The message is clear - we are making it harder than ever for corrupt regimes or individuals around the world to move, hide and profit from the proceeds of their crime."
A Government spokesman said one of the functions of the conference would be estimating how much of Ukraine's assets had gone missing.
Popular in the Community