So his lead role of Milo in 'Pompeii 3D', Paul W S Anderson's retelling of the tragedy of the doomed Italian city, won't really be a huge curve ball for his fans.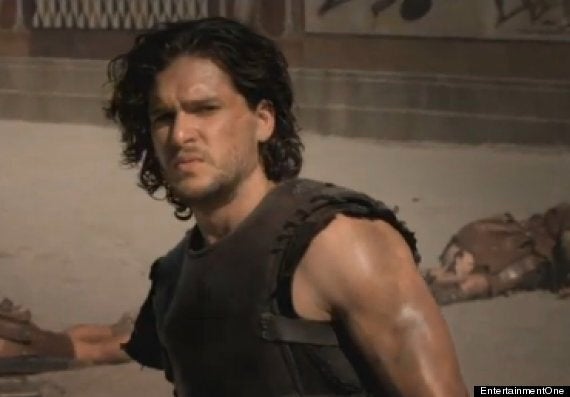 Method Abs, according to Kit Harington...
What they can't fail to notice, however, is just how beefed up the actor has become for the film, where he plays a slave turned gladiator, determined to save his own true love.
WATCH Kit Harington explain his abs and the other challenges of the role in our Video Interview above... after he debates - AT LENGTH - about what to eat!
In the film, he plays a slave-turned-gladiator finds who himself in a race against time to save his true love, who has been betrothed to a corrupt Roman Senator. As Mount Vesuvius erupts, he must fight to save his beloved as Pompeii crumbles around him.
Vesuvius erupted in 79 AD, destroying Pompeii, nearly all its population of 20,000, and that of nearby Herculaneum. The site was buried for hundreds of years, until its surprise discovery in 1599.
'Pompeii 3D' is in UK cinemas from this Friday 2 May. Watch the trailer below...