A strike by London Underground workers has been causing travel chaos for commuters and other passengers this morning, with disruption set to continue next week.
Commuters trying to get to work Tuesday have been warned to expect "severe disruption" as Tube workers strike.
Members of the Rail, Maritime and Transport union (RMT) walked out for 48 hours at 9pm last night in protest at plans to close Tube ticket offices.
Services will start later and finish earlier during the action, which will be followed by a three-day stoppage from 9pm next Monday.
Business groups warned the strikes will cost the capital's economy millions of pounds.
But the union said the closure of ticket offices will cost hundreds of job losses and threaten safety.
The company, and Boris Johnson, attacked the strike, which will cause huge disruption for commuters and other travellers.
Leaders of the RMT held a last ditch meeting with LU at the offices of the conciliation service Acas yesterday in a bid to resolve the row over Tube ticket offices, but the talks only lasted a couple of hours and broke up with no sign of a breakthrough.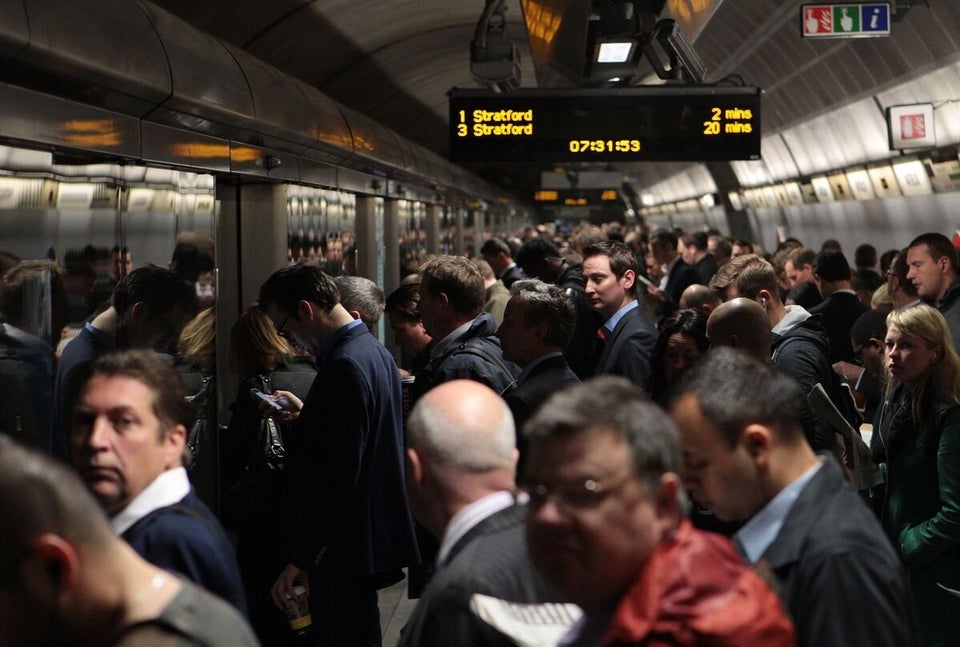 London Tube Strike
The following services are expected to run less frequently than normal and with some stations may be closed:
Bakerloo Line: Between Queen's Park and Elephant and Castle

Central Line: Between Epping/Hainault and Leytonstone. Between White City and Ealing Broadway and between North Acton and West Ruislip

District Line: Between Wimbledon and Upminster. Between Ealing Broadway and High Street Kensington

Hammersmith and City Line: Between Hammersmith and Aldgate

Jubilee Line: Between Wembley Park and Stratford

Metropolitan Line: Between Harrow-on-the-Hill and Aldgate

Northern Line: Between Edgware and Golders Green and between High Barnet and East Finchley/Mill Hill East

Piccadilly Line: Between Acton Town and Heathrow Terminals 1,2,3

The strike means there will be no service on the Waterloo and City Line and no Circle Line service, although some stations will be served where other lines share the track.
The union said it had put forward proposals which it believed could have led to the industrial action being suspended.
Acting general secretary Mick Cash said RMT could have recommended the suspension of the strike action if LU "had responded positively to our proposal to halt the implementation of these savage cuts, stopping the dire impact they would have the length and breadth of London Underground."
But London Mayor Boris Johnson branded the strike "pointless" and urged RMT to "get back round the table with London Underground and the three other unions who've chosen not to strike.
"It seems the RMT leadership is set against modernisation and has no fresh ideas of its own.
"More than 600 people have asked for voluntary redundancy and yet, without consulting any of their own members the RMT is suddenly insisting that London Underground halt this process.
"Despite dozens of meetings over several months the RMT chose only on Friday to make fresh demands. It seems they are more interested in fighting over the leadership of the RMT than the interests of their members.
"Commuters and businesses will suffer because a few narrow minded union barons are currently flexing their muscles in a fight for the leadership of a union where just 30% of members support a strike."
Mike Brown, Managing Director of London Underground, said "only the RMT leadership know the real motivations behind their actions, but it is infuriating that London's commuters and businesses are the ones who are being forced to pay the price with five days of utterly pointless and disruptive strikes.
"The RMT leadership continues to say 'no' to everything, and they also appear in the context of these changes to be opposed to giving our staff the option of voluntary redundancy.
Caroline Pidgeon, leader of the Liberal Democrat London Assembly Group, said: "This is a totally unnecessary strike which will have devastating impact for London's economy and create the greatest disruption for ordinary Londoners, such as teachers and nurses.
"The cause of this strike is a dubious mix of poor leadership by London Underground management and a leadership battle within the RMT positioning for strike action."
The strikes will be held ahead of a May Day rally in London on Thursday in memory of RMT leader Bob Crow, who died in March.
Related