The BBC did not show a vile BNP cartoon featuring leering Muslim gangs as its party political broadcast, after the party deciding to submit a somewhat hurried substitute of a bloke talking in a room for four minutes.
The corporation said on Wednesday that contrary to the BNP's claims of "censorship", it did not actually stop the broadcast, but merely advised the party on its guidelines.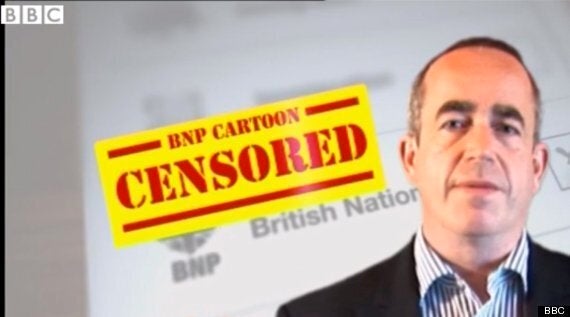 The BNP broadcast which they claim was censored
On Saturday, the BNP's PR man Simon Darby said he was angry the animation had been leaked ahead of time, but insisted the BBC had not told him of any plans to stop the broadcast of the full animation. The party called the leak "a black ops campaign" against them.
On Tuesday night, just a few seconds of the animation was shown, with the segment cutting away to Darby, who said the "powers that be say we break Ofcom's rules". Ofcom do not set the guidelines that govern party political broadcasts on the BBC, only for ITV and Channels 4 and 5.
A BBC spokesperson said: "The BBC did not "censor" the broadcast. The BNP asked us for advice on the content on the broadcast and we advised them on the relevant guidelines and the law, when they subsequently submitted the broadcast it was editorially compliant."
The corporation's guidelines state that party broadcasts have an "obligation to observe the law, for example on libel, copyright and incitement to racial hatred and violence."
In the clip shown on Tuesday night, Darby went on to allege other stories about the BNP had been hidden by the media, including a the somewhat bold statement that BNP leader Nick Griffin had stopped "the bombing of Damascus" and had "held peace talks with the Syrian government, and wrote the letter that helped sway Westminster to vote against war."
The BNP leader himself appeared at the end of the clip, with a little rhyming couplet. "The other politicians are all the same. They're all to blame," he said, solemnly.
The BNP are not on the list of major parties and therefore do not automatically qualify for a Party Political Broadcast ahead of May's European elections.
But Ofcom rules state that broadcasters should set a criteria so that other registered parties can qualify for a broadcast, and in 2014 that includes all parties that are running full lists of candidates in all English electoral regions, a spokesman for the watchdog said. The BBC has its own in-house guidelines.
"It is great news that common sense has prevailed," Fiyaz Mughal, founder of the anti-Islamphobia group Tell MAMA told HuffPost UK.
"It seems the BNP simply is trying to promote more inflammatory messages just to catch some political limelight. Shameful is how I would describe it."
Popular in the Community