 A pensioner was left suspecting foul play after finding pictures of putrid and pongy pooch poo on a cartoonish council calendar.
Anne Simpson, from Richmond, North Yorkshire, thought her eyes were deceiving her when she discovered that May featured an illustration of a slimy and stomach-sickening stool.
The 78-year-old's surprising discovery did not stop there, with further pictures of foul and fetid faeces appearing on the pages for June and November.
Story continues after the slideshow...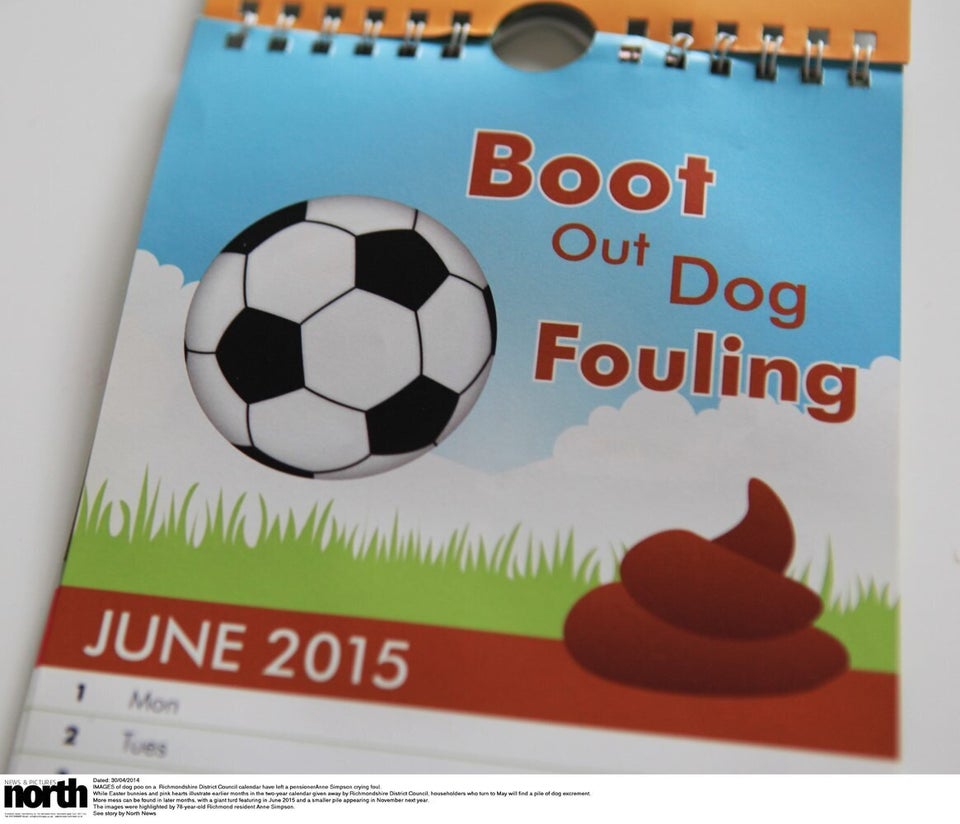 Poo Calendar
Simpson told the Northern Echo: "A colourful picture illustrates each month - January is a Christmas tree, February there are pink hearts, March an old sofa, April has cute bunnies and Easter eggs.
"So far so good, so I thought I would have a peek at May's offering - I was greeted by a large dog turd."
As a result Ms Simpson decided to cover up the images by cutting up her Easter cards and sticking them on to the calendar.
When asked about the choice of images, the council said it had not wished to cause offence and appreciated that not everyone wanted to look at a picture of misplaced mucky mutt mess on a calendar.
But they said it was a necessary part of its campaign against anti-social behaviour.
Colin Dales, corporate director at Richmondshire District Council, said: "The key aim of the calendars was to give clear and comprehensive information to our residents on waste and recycling collection rounds as well as promoting key messages around recycling and maintaining a high-quality environment.
"Whilst not wishing to cause offence to any residents via the messages in the calendar, this particular resident query clearly shows that the calendars are being used and read, which was our key objective.
"I appreciate that not everyone wants to look at a picture of dog fouling but we need our message and associated campaigns to be hard-hitting in order to get the message across to anti-social residents and visitors that their behaviour will not be tolerated."
Related