If it isn't hard enough to ignore the latest paparazzi shots of [insert celebrity name here] and her post-pregnancy washboard stomach in bikini photos, just be thankful that you're a fully-grown woman and not a young girl.
Because unlike adults, children are unable to filter messages that value women's appearance above brains or success - and the consequences are evident all around.
But while the blame is batted between the media and parents, one magazine has decided to take a stand. And not just any magazine. 'Girl Talk', the bestselling pre-teen girl's magazine, is going feminist.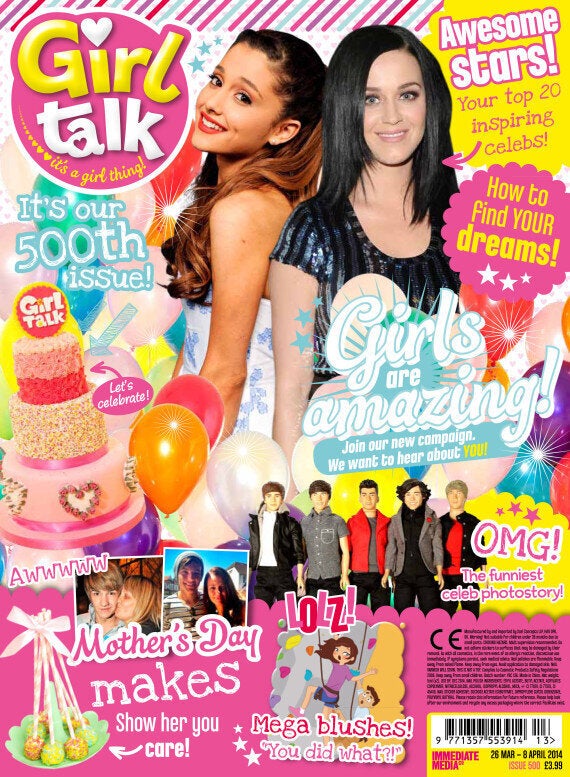 The change comes after the magazine issued a survey to find out more about its readers.
"The answers were depressing," says editor Bea Appleby. "Girls wanted to be described as 'pretty', 'kind' and 'funny', they wanted careers as singers, the women they admired were pop stars with writers, politicians and sportswomen at the bottom of the list."
And so, as the magazine celebrates its 500th issue, Bea decided to make some serious editorial changes and moving away from celebrity-centric content to offer a range of role models and teach girls to critique the media.
After all, with a readership of 376,000 girls aged 7 to 11, the magazine has the power to be pretty instrumental in shaping young girls' attitudes in the UK.
But this doesn't mean that celebrity gossip - which is a sizeable chunk of Girl Talk's offering - will go out of the window, it will just be downsized to make room for a range of more-rounded features.
"We can't edit out all of the famous people our readers like – the pop stars and TV stars are still on our pages – but we will be showing a broader range of role models.
"Every issue will feature career profiles of women doing jobs that aren't perceived as traditionally feminine."
The magazine also aims to teach young girls how to question and critique the messages they are given.
"We're encouraging readers to ask questions like 'why don't we see women's football on TV?' or 'why are girls products so pink?'"
When asked about the current way women are represented in the media, Bea laments.
"I think the portrayal of women in very narrow, critical and sexist," says Bea. "What we need to do is offer our readers a wider view of women and make different people visible to them. That's the only way that we can counterbalance what is already out there, but in a fair way."
Every issue of the magazine will also feature the Girl Talk promise, which champions positive body image and female empowerment:
I will love myself the way I am
By working hard I know I can achieve great things
I will accept others for who they are
I will have confidence to stand up for my friends and other girls
I believe girls are equal to boys
And this is just the beginning, in ten years Bea hopes her readers won't shy away from the idea of being "brave".
"There are only three female chief execs in the FTSE 100, only one third of MPs are women and I wonder if this, in part, is to do with bravery.
"Girls are rewarded for being good and playing by the rules, to me they seem less keen on taking risks than boys. There is still a lot of sexism towards girls who push themselves forward and speak up – an issue picked up in the Ban Bossy campaign.
"Until there is greater gender equality, girls need to be brave and care less about what other people think of them, or the world will be run by men!"