However their latest partnership, in which they have teamed up with the girl guides in Britain, Girlguiding UK, to help young girls and women with body confidence issues - has the bones of real long term, positive change.
The organisation for young girls has developed a body confidence badge which girl guides can work towards.
This badge is the first of its kind in the UK.
Talking to HuffPost UK Lifestyle, Rivkie Baum, editor of Slink magazine says: "I think it's commendable that the Guides and Dove are adding this new badge. Historically the guides have been all about building girls skills outside of the realm of just being about looks.
"I hope the new badge will teach the girls more about accepting themselves and talk more about health and being able to be healthy and confident at different sizes and not just focussing on photoshop and the magazine industry. I think it needs an approach that is positive about all body shapes."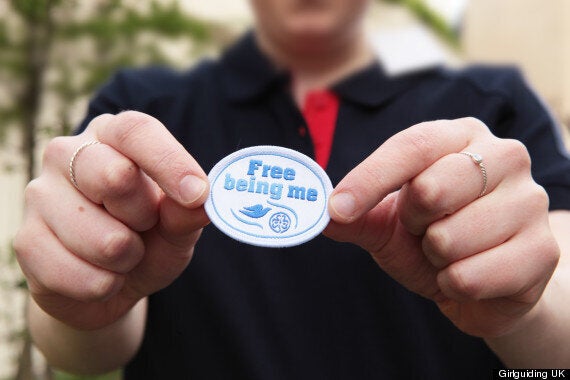 In addition, Girlguiding UK also ran its own research, and found that one in five girls of primary school age say they have been on a diet, 38% of girls aged 11-to-21 say they have sometimes skipped meals to help lose weight and more shockingly - 87% think they are judged more on looks than ability.
HuffPost UK blogger and lecturer in literature and public engagement at the University of East Anglia Dr BJ Epstein commented: "This initiative is welcome and needed. I teach at a university and it's worrying to me to see how many of my female undergraduates, who are in their late teens and early twenties, obsess about their appearance.
"They tell me that they feel pressured to diet, to dress a certain way, to wear make-up, and so on, even when they're sitting in class or going to the grocery store, and they say they've felt this pressure for many years. I've never had a male student mention the same pressure or the same concerns about his appearance. It seems clear to me that young women today still seem to believe that much of their value comes from how they look. We need to reach out to girls and to try to get the message across from an early age that who they are is about so much more than their looks."
By 2016, it is hoped that the campaign - which is called Free Being Me, will reach over 400,000 girls. Over the next years, thousands of seven to 14-year-olds will receive unmasking society's beauty myths, exposing airbrushing and challenging unhealthy body talk. The trainings will take place in thousands of Brownie and Guide groups over the next two years.
Aside from the campaign, it is extremely satisfying to see Girlguiding UK galvanised and taking an active role in the development of young girls and women. We've seen incremental positive changes, from signing the No More Page 3 petition and writing a letter to David Cameron, to changing the vernacular of the pledge to be less religious and therefore more inclusive.
Laura Ede, 24, Chair of Girlguiding's Peer Education National Co-ordination and Support Team, said: "Young people today are under constant pressure to conform to impossible and unattainable standards of beauty is a society obsessed with image and appearance.
"Free Being Me shows young people just how ridiculous this 'Image Myth' really is – teaching them to value their bodies and celebrate diversity – so they are never put-off doing something because of the way they look.
Group activities will see girls challenged to become body confidence "correspondents" – hosting press conferences and coming up with their own self-esteem boosting news stories. They will also be tasked with taking the body confidence message viral using posters, video and t-shirts to spread the word in their schools and communities.
The campaign has already got some very positive feedback on Twitter:
Chief Guide Gill Slocombe, said: "Along with Girlguiding's 100,000 amazing volunteers, I am committed to helping girls develop into happy, self –confident young women – ready to take on the world.
"Free Being Me will play an incredibly important part in this mission – helping young women to develop in confidence, so they grow up to become unstoppable!"
For further information on the Dove Self Esteem Project (DSEP) and the Free Being Me badge in partnership with Girlguiding visit the website.