 Here are the five things you need to know on Friday 2 May 2014...
Dave is trying his best to fight back against Ukip this morning - my Huffington Post UK colleague Ned Simons reports:
"David Cameron will insist on Friday that he can be trusted not break his promise to hold a referendum on Britain's membership of the European Union, as he seeks to limit the damage from an expected third place finish in the 22 May European elections. 'To those people who say you won't deliver that renegotiation or referendum, I say: Judge me by my record as prime minister,' he will say. 'Others talk about acting in the national interest or standing up to Europe, I do it, time and again – often in the teeth of opposition in Brussels and with a backdrop of uncertainty about whether it can really happen at home'... Cameron will say in a speech today: 'I have a track record of delivery - and I believe me, whatever it takes, I will deliver this in-out referendum. Labour won't. Ukip can't. I will.'"
"A crackdown to prevent knife-wielding thugs escaping jail is being opposed by Nick Clegg and other senior Liberal Democrats, extraordinary leaked Cabinet papers reveal. Despite heightened public concern over knife crime following the classroom stabbing of teacher Ann Maguire, the Deputy Prime Minister and senior colleagues flatly refused to support a tightening of the law in private Whitehall talks this week. In one letter to Mr Clegg, sent on Tuesday and marked 'restricted' but leaked to the Daily Mail, Chief Secretary to the Treasury Danny Alexander insists jailing more offenders caught with blades would cost too much money... In another letter to the Deputy Prime Minister, Lib Dem schools minister David Laws says mandatory minimum sentences are 'too blunt an instrument' and he is also 'unwilling' to support the proposed change in the law. Justice Secretary Chris Grayling has drawn up plans to legislate so that offenders caught more than once with a blade are automatically jailed, according to senior sources."
This'll wind up right-wing, backbench Tories big time...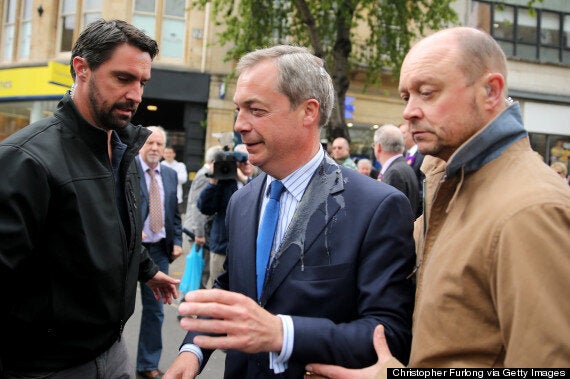 Ukip leader Nigel Farage scrambles for cover in Nottingham yesterday
"So it was really only a matter of time before Nigel Farage joined the list of politicians who have been egged by unhappy members of the public. The 50-year-old Ukip leader was literally left with egg on his face after a well-aimed shot from a protestor in Nottingham... Onlookers said the politician looked 'stunned' at the ambush. The protestor posed for pictures and told the crowd: 'I went to Tesco and bought six eggs. I made sure they were British so at least he should be happy with that.' He was arrested on suspicion of assault shortly afterwards."
BECAUSE YOU'VE READ THIS FAR...
Watch this video of Top Gear's Jeremy Clarkson last night apologising for using the N-word - having denied using it on Twitter in the morning.
"Conservative peer Lord Heseltine has said the government should have greater powers to intervene when British companies are the target of takeover bids by foreign businesses. The former deputy prime minister told the BBC takeovers 'could be very helpful', but the UK should do more to protect its national interests. This week, American drugs giant Pfizer announced it was bidding for British pharmaceutical company AstraZeneca... If successful, the deal would be the biggest ever takeover of a UK business by a foreign company. Lord Heseltine, who is an adviser to Prime Minister David Cameron on economic growth, told the BBC's business editor Kamal Ahmed that ministers should have 'reserve powers' to protect British companies when crucial interests, such as the country's science base, were at risk."
5) 'YOU LOOK LIKE A BLOODY JEW'
Patrick Mercer is an awful individual. From the Telegraph:
"The cash–for–questions scandal that led to the resignation of Patrick Mercer, the former Conservative MP, is the worst case of its kind that Parliament's standards watchdog has encountered, a report has said. Mr Mercer stepped down this week as the MP for Newark days before he was due to be suspended from the Commons for six months. His decision came after a joint investigation by The Daily Telegraph and the BBC's Panorama revealed that Mr Mercer tabled a series of parliamentary questions and put down a motion after accepting £4,000 from undercover reporters.
It wasn't just financial sleaze that did it for the former Tory backbencher:
"Mr Mercer was also criticised for using "racially offensive language" in relation to footage that showed him talking about a visit to Israel, where he told a woman 'you look like a bloody Jew'."
From the Sun/YouGov poll:
That would give Labour a majority of 30.
Fraser Nelson, writing in the Telegraph, says: 'Low rent Labour is positioning itself as the Ukip of the left."
Simon Jenkins, writing in the Guardian, says: "Schools are held hostage by politicians' control-freakery."
Michael Howard, writing in the Times, says: "Despite those 14 questions, I admire Jeremy Paxman."
Got something you want to share? Please send any stories/tips/quotes/pix/plugs/gossip to Mehdi Hasan (mehdi.hasan@huffingtonpost.com), Ned Simons (ned.simons@huffingtonpost.com) or Asa Bennett (asa.bennett@huffingtonpost.com). You can also follow us on Twitter: @mehdirhasan, @nedsimons, @asabenn and @huffpostukpol