A red lemur has made a somewhat audacious bid for freedom, escaping Colchester Zoo and scampering down the busy road.
But unable to resist the lure of its favourite banana snack, the primate was chivvied back to its home.
Worried motorists had phoned 999 after spotted the lemur boldly walking along the pavement next to a busy road, with a dozen officers called to the scene and the road temporarily closed.
Cheeky lemur making it's escape from Colchester zoo #colchesterzoo#greatescapepic.twitter.com/ijntQYW2G6

— Jonathon Hunt (@LordJHunt) May 4, 2014
The cheery-looking lemur made its way into the front garden of a house about half-a-mile from the zoo.
Keepers were tipped off by passers-by and arrived to entice the lemur to come home, using its favourite snack.
As it crept closer, a keeper grabbed hold of the runaway lemur by its tail, and the primate was taken back to the zoo with a police escort last night.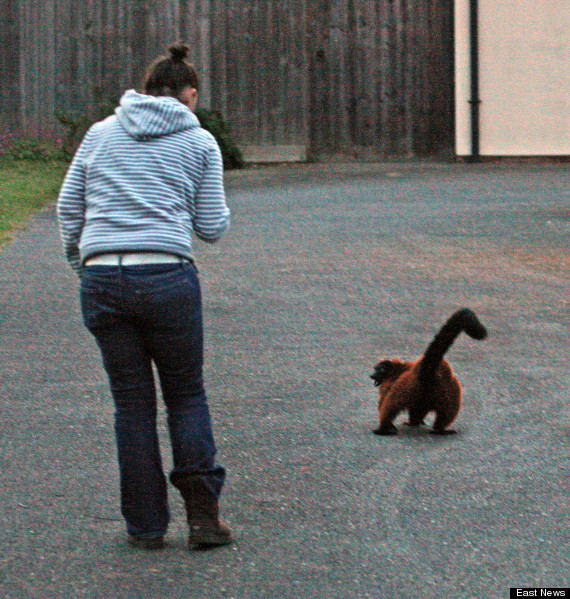 The runaway is lured by the keeper with a banana
One onlooker told East News: "The lemur was just hopping round the front garden, oblivious to all the interest and police activity.
"He certainly did not seem to be stressed and was enjoying his big adventure.
"We joked that he looked like he was going to catch a bus into town and go off for a big adventure.
"The keeper was certainly relieved when she had him safely in her arms - I think the banana must have done the trick."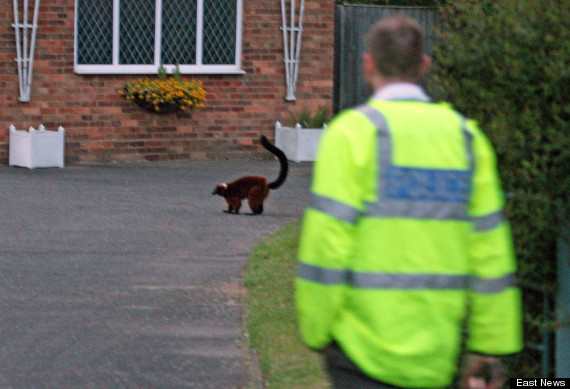 The cops had to be called to deal with the monkey business
A spokesman for Essex Police said today: "We were contacted by a motorist shortly before 8.30pm who reported that a monkey was on Maldon Road outside the zoo.
"Officers attended the scene and contained the lemur before zoo staff arrived and collected the animal 20 minutes later.
"A sections of the road was closed during this time to keep the lemur safe."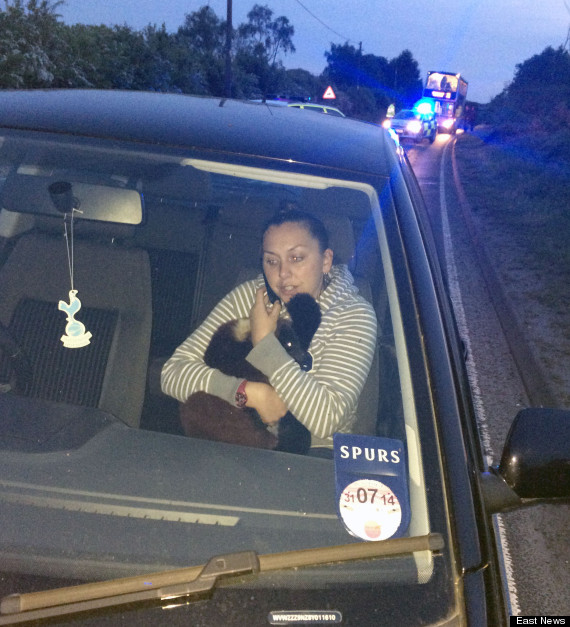 Time for a cuddle on the way home
Last year five Timber wolves escaped from the same zoo through a damaged fence. One of the wolves retuned to its enclosure almost immediately and another was re-captured using tranquilliser darts.
Zoo staff then made the heartbreaking decision to shoot dead the three other escapees during the dramatic day last November.
And last August a hunt was launched for a runaway river hog which also broke out of the zoo.
The 'Essex hog' was also spotted in gardens in homes nearby but evaded capture from frustrated keepers.