CCTV footage has emerged that could challenge Amanda Knox's alibi on the night Meredith Kercher was murdered.
More doubt was cast on Knox's alibi after footage from a surveillance camera showed she may have been at her Italian apartment the night her roommate was murdered.
The clip, which was released by the Italian investigative program Quarto Grado, shows a woman who resembles Knox walking through a section of Perugia on Nov. 1, 2007 — the night Meredith Kercher, 21, was killed in her home.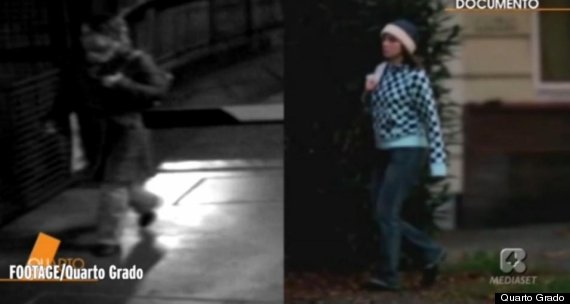 The American, who this year was re-convicted of murder after a second trial, has always said she was with then-boyfriend Raffaele Sollecito on the night of the killing.
The television program claims that Kercher was also captured on the camera as she walked by just two minutes earlier.
Quarto Grado also says that Rudy Guede, the only person jailed for the murder, was recorded by the same video camera earlier in the evening.
Both prosecutors and defence lawyers aware of the footage, but reportedly thought that it wouldn't be helpful to either side of the case and decided against using it during the trials.
Barbie Latza Nadeau, who wrote a book about the case, discussed with The Times similarities between Knox and the woman captured in the video, including the way they walk.
"If that is Amanda, she proves herself a liar if she is not a murderess," Nadeau told the newspaper.