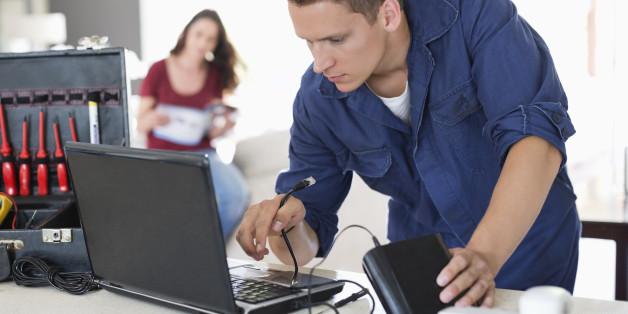 Paul Bradbury via Getty Images
MI5 has warned that foreign spies have found a new target in the post-Cold War fight for intelligence supremacy:
Your humble IT manager.
That's right - MI5 thinks the guy who comes around and fixes your broken Ethernet cable in a World of Warcraft T-shirt and sandals might be working for North Korea.
The security service said that a number of top British businesses are now targets for espionage, with IT departments said to be an area of high priority.
The report in the Financial Times says that even junior IT staff are being recruited to pass vital information to foreign agencies, or to upload viruses or otherwise damage equipment.
Paul Stockton, a former US assistant secretary of defence, told the FT that so-called "insider threats" are a "growing challenge".
"They're not necessarily those at the highest levels of an organisation," he said. "Rather it is the systems administrators and others who hold the keys to the IT kingdom that pose such significant potential threats."
Ross Brewer, vice president at LogRhythm, warned of "catastrophic" results if the problem is not tackled.
"Businesses have often ended up overlooking the significant security threat posed by those on the inside. Used to nameless, faceless perpetrators, it's understandably more difficult to accept that the culprit may be sat right next to them, however continuing to ignore this could now lead to catastrophic consequences."
Meanwhile Paul Ayers, VP EMEA at enterprise data security firm Vormetric, said "the abuse of privileged credentials is the next frontier for cyber crime against enterprises".
"A modern security framework needs to be designed from the inside out, rather than outside in, with controls placed tightly around the most sensitive data."