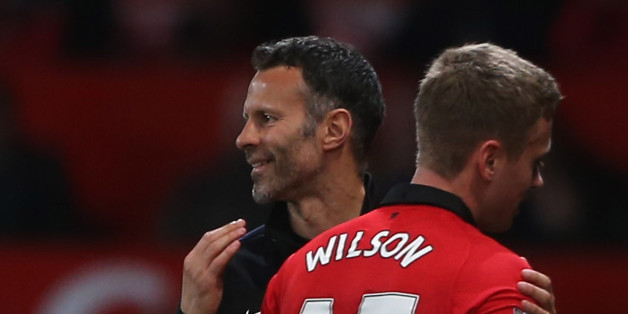 John Peters via Getty Images
Nine minutes before kick-off, Joy Division's "Love Will Tear Us Apart" reverberated around Old Trafford. The stadium was half full, which was a pity, since the crowd should have rocked along to the tune of Ryan Giggs' most endearing chant on what was billed as his goodbye night. The departing Nemanja Vidić received the pre-match presentation, but this was an emotional goodbye for a number of Manchester United's old guard.
Milan-bound Vidić was honoured by Sir Bobby Charlton, as Old Trafford MC Alan Keegan reeled off the Serbian's honours during his eight years in Manchester. Rio Ferdinand, his partner for much of that time, watched on from the directors' box, while Giggs resisted the suit and wrapped himself in a tracksuit as substitute/manager. Patrice Evra was nowhere to be seen.
United's 2008 Champions League triumph in Moscow was, the crowd were reminded, these players' finest hour in red, and how appropriate the old block were phased out on a night their oldest member heralded Old Trafford's new order. Biddulph-born 18-year-old James Wilson scored a brace on his United debut and heard the Stretford End holler his name in a moment that will resonate with Giggs 23 years on from his maiden strike in a Manchester derby. Tom Lawrence, 20, also made his first United appearance.
"I'd just like to say keep supporting us, you've seen a glimpse of the future," Ryan Giggs said in his post-match address from the turf. "This club never stands still. Keep supporting us and the good times will come back soon."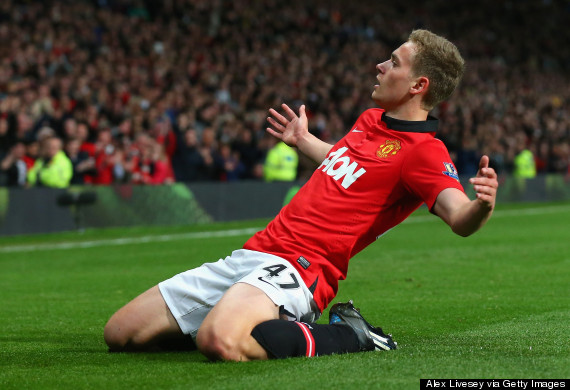 James Wilson struck a brace on his United debut
"If they're good enough, they're old enough," Sir Matt Busby once memorably declared. Sir Alex Ferguson introduced Giggs to first-team football when he was 17 and Wilson, an unused substitute in the win at Newcastle last month, is already making a mockery of reserve defenders. Adnan Januzaj, who has stood out like a dove among a flock of crows this season, dazzled again as Giggs fielded an XI aged 28 and under.
Giggs had not played since 45 moribund minutes when Bayern Munich visited before he emerged with a quarter of the game remaining and displayed more energy than players in their 20s and 30s. He looked ten years younger.
Certain occasions, Giggs admitted, like the Olympiakos comeback he influenced in March, had given him "the urge to keep going. I have honestly not made my mind up either way, and there are a lot of things to consider - not least, of course, discussing the matter with the new manager here at Old Trafford."
Already, Giggs is playing the politics. "I don't buy into the theory that this club needs to bring in lots of new players and sell off a lot of the current squad," he opined in his programme notes. He added United need "a few carefully chosen recruits". Some at the club believe United need just a nip and tuck, those who matter have briefed there will be plastic surgery in the summer.
Hull's last visit to Old Trafford coincided with the start of United supporters' green and gold protests and concluded with a mutinous final home game, as the championship was lost to Chelsea. United's following this time entertained themselves with schadenfreude ditties charting Liverpool's fading title challenge and Steven Gerrard's personal failure in the Premier League.
Giggs surreally strode down the touchline alongside one-time mentor and former United captain Steve Bruce. The Hull City boss has known Giggs since before he filmed the then-teenage Welshman hiding a stash of junk food under his pillows on an away trip to Norwich in 1993. Bruce shan't argue Giggs has aged considerably better than him.
Marouane Fellaini was played further forward to aid Wilson, and almost provided the striker with a goal inside three minutes via a well-planted knock down. Lawrence's surge in the 16th minute ended with a deflected shot over Eldin Jakupović's crossbar, before Wilson met another Fellaini lay-off sweetly for the opener. Giggs, née Wilson, was delighted for his namesake.
Vidić was introduced early for Phil Jones, whose second touch is invariably an injury. He did it in one this time as he flew into Maynor Figueroa at a corner and walked off, crestfallen. Roy Hodgson announces his World Cup squad on Monday, and Jones has just over five weeks to recover in time for England's opener against Italy in Manaus.
Januzaj enlivened a testimonial-paced contest when he tested Jakupović five minutes after the pause. "Giggs, Giggs will tear you apart again," the Stretford End sang in the 56th minute, as they implored their interim manager to enjoy one final outing. Januzaj did his best impression of Giggs as he skinned Curtis Davies and played the ball inside to Marouane Fellaini, whose shot was spilled by Jakupović into the path of the waiting Wilson to score again.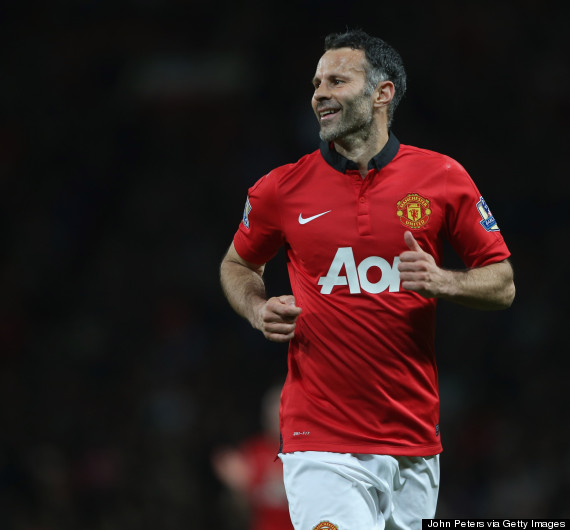 Giggs produced a wonderful cameo performance on Tuesday night
Matt Fryatt's brilliant drive barely bothered a home crowd now determined to savour the last moments of a turbulent home campaign. Giggs' 66th minute warm-up, alone, was greeted rapturously before he replaced his silky compatriot, Lawrence. Giggs did indeed float across the ground "like a cocker spaniel chasing a piece of silver paper in the wind", as his former manager described.
Alex Bruce will have joined Giggs for United's trophy parades along with his dad in the early-to-mid 90s, but was still skinned by a man 11 years his senior as the United No.11 tore around like a teenager. Eventually, Giggs' industry paid dividends when he assisted Robin van Persie's clincher.
In the 92nd minute, United won a free-kick. "Keeper, let it in," urged the Stretford End as Giggs stepped it up. He struck it wonderfully and looked to have crowned a glorious cameo, only pantomime villain Jakupović tipped it over and was booed. It had the air of an exhibition match, although Giggs can be forgiven for not deciding whether this really is the end just yet.