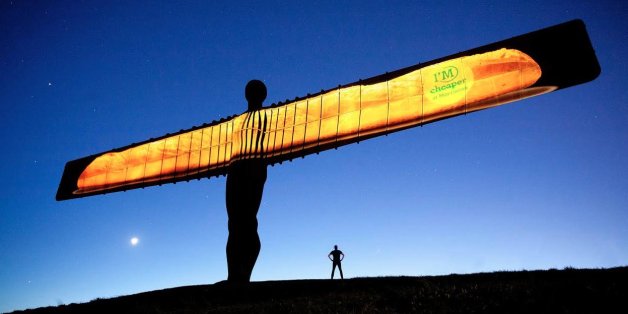 Imagewise
Morrisons has apologised after it beamed a giant bread stick onto the Angel of the North as part of an advertising campaign.
The supermarket's half-baked plan was to kick start a new price cutting move by projecting the image, instead it sparked cries of outrage.
The move was criticised by artist Antony Gormley, who has always wanted the artwork to stand without any interference isolated and unlit.
"I'd rather the Angel is not used for such purposes, but it's out there," he said yesterday.
It is unclear if Morrisons had permission from Gateshead Council for the stunt.
The advertising stunt prompted outrage on Twitter, with many criticising the supermarket for "cultural vandalism".
Welcome to Britain, where we've slapped a Morrisons advert across the Angel of the North. We really are a shit hole. pic.twitter.com/K7GZ1SVRLP

— Will (@WillMcHoebag) May 4, 2014
angel of the North being used to advertise a shitty supermarket ( or anything) makes me burn with fury

— Jenny Eclair (@jennyeclair) May 5, 2014
please take the morrisons ad down from the angel of the north PLEASE IT'S SO TACKY AND EMBARRASSING PLEA SE

— Hello Holly (@starrfleet) May 5, 2014
Morrisons presumably working on the principle all publicity is good publicity. Even when ruining artworks with dreadfully ugly ads.

— Jonathan Haynes (@JonathanHaynes) May 4, 2014
The Morrisons baguette advert on the Angel of the North is so philistine and disgraceful I ... I don't even have a joke here. Depressed.

— Patrick Ness (@Patrick_Ness) May 5, 2014
I personally hope there's a sex shop with a big enough budget to advertise on the Angel of the North

— Andre Griffin (@Andre_p_Griffin) May 5, 2014
A Morrisons spokeswoman said the advert was meant to raise "conversation" about the price cutting initiative as well as "generating intrigue."
The supermarket told The Chronicle: "We're sorry if you thought we got carried away by shining a baguette on the Angel of the North and apologise unreservedly to those to whom we have caused offence.
"We were trying something different which was meant to put a smile on peoples faces but clearly it wasn't to everybody's tastes. We're so proud of our northern roots and the last thing we want to do is offend anybody."