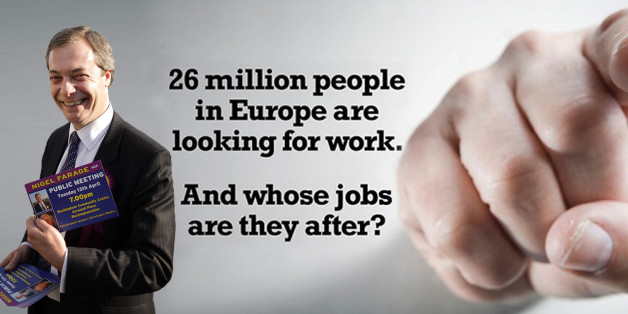 Here are the five things you need to know on Thursday 8 May 2014...
1) THE UKYPOCRITES
You can't beat Ukip for hypocrisy, double standards and chutzpah. My colleague Asa Bennett has this HuffPost UK exclusive:
"Ukip has been accused of hypocrisy and double standards for paying Eastern Europeans to distribute their election leaflets, despite those leaflets warning that immigrants from the EU pose a threat to British jobs. Andrew Spalis, partner at the door-to-door distribution firm Fast Leaflet, told the Huffington Post UK that his firm has been carrying out work for Ukip and that many of its employees are from Latvia, as well as other parts of Eastern Europe... Three Eastern European men, believed to be employees of Fast Leaflet, were spotted distributing election leaflets for Ukip in Croydon on Tuesday... Gavin Barwell, Tory MP for Croydon Central, told HuffPost UK: 'Ukip's hypocrisy knows no bounds. They say they are against Europeans taking our jobs and then, when they have a chance to offer some British people work delivering their leaflets because they can't find volunteers to do it, they employ European workers. You couldn't make it up!'"
Meanwhile, Nigel Farage has insisted that his party is "not racist" at an event for Ukip activists in London. From the BBC:
"Mr Farage said a 'handful' of its thousands of candidates had said 'stupid or offensive' things, but 'they never have, and they never will', represent the views of the party. He was speaking at an event designed to highlight UKIP's female, black and ethnic-minority candidates. The rally was disrupted several times by protesters accusing UKIP of racism."
2) QUIT? ME? NO WAY
Dave is in defiant mode - from the Daily Mail:
"David Cameron has insisted he will not resign if Scotland votes for independence despite warnings from senior Tories that a 'yes' vote will plunge his premiership into unprecedented crisis. The Prime Minister has told friends he has 'no intention' of quitting if the Scots vote for independence in the referendum he agreed with Alex Salmond. Some senior Conservatives believe that Mr Cameron will face a clamour to quit if he is Prime Minister who presides over the loss of the 300-year-old Union. 'If Scotland goes it is going to be very difficult. He might have had little choice but if you are the Prime Minister that calls [Scottish First Minister Alex] Salmond's bluff and loses, it's unthinkable,' said one... A source familiar with the Prime Minister's thinking added: 'Better Together [the 'no campaign] is cross-party, so this doesn't arise. He would not resign - definitely not.'"
3) NICK'S KNIFE VETO
Yesterday's party election broadcast (PEB) video by the Labour Party portrayed Nick Clegg as a shrinking, yes-man in a Tory-dominated coalition. Today, the deputy prime minister tries to show he is his own man - from the Guardian:
"Nick Clegg will on Thursday take the high-risk step of publicly vetoing a Conservative plan to automatically jail any offender caught in possession of a knife for a second time. The deputy prime minister says he will not allow the government to support "headline-grabbing solutions" in the aftermath of the murder of the Leeds schoolteacher Ann Maguire. Writing in the Guardian, Clegg argues that such draconian measures could 'turn the young offenders of today into the hardened criminals of tomorrow'. His stance, confronting the law-and-order agenda of his coalition partners, is a risk at a time when the Liberal Democrats are already facing a possible drubbing in the local and European elections."
BECAUSE YOU'VE READ THIS FAR...
Watch this video of California cops pulling drivers over for the best possible reason.
4) IS LABOUR 'RADICAL' ENOUGH?
My HuffPost UK colleague Ned Simons has been speaking to shadow leader of the Commons and chair of Labour's national policy forum, Angela Eagle:
"Labour needs to produce the most 'radical' manifesto in over twenty years if it is to secure the big majority it needs at the next election to implement big changes , a shadow cabinet minister has said. In an interview with The Huffington Post UK to mark the one year to go point until the election, Angela Eagle said circumstances demanded that Labour do much more than simply play it safe and try and quietly sneak over the finish line and back into power... Eagle also savaged the Lib Dems for inflicting 'misery' on the country, said equality for women did not come 'naturally' to David Cameron's Conservatives, that Ed Miliband was prepared for a 'dirty campaign' and that Labour should not be too worried about Ukip."
5) 'THIS IS NOT JUST A NIGERIAN ISSUE, IT IS A GLOBAL ISSUE'
From the Daily Express:
"David Cameron described the kidnapping of 300 Nigerian schoolgirls as 'pure evil' yesterday as he announced a team of British experts is being sent to help search for them. The Prime Minister told MPs that it was vital Britain stood against the actions of 'extreme Islamists'... Mr Cameron told MPs at Prime Minister's Questions: "I'm the father of two young daughters and my reaction is the same as every father or mother in this land or the world. This is an act of pure evil, it has united people across the planet to stand with Nigeria to help find these children and return them to their parents." A British military training team is in Nigeria, where police have offered a £177,000 cash reward to anyone who can help find and rescue the girls. A team of Whitehall experts will also be sent out. 'This is not just a Nigerian issue, it is a global issue,' Mr Cameron added."
PUBLIC OPINION WATCH
From the Sun/YouGov poll:
Labour 37
Conservatives 34
Ukip 13
Lib Dems 8
That would give Labour a majority of 32.
900 WORDS OR MORE
Suzanne Moore, writing in the Guardian, says: "Jeremy Clarkson and Ukip are not mavericks, but the bullying face of the establishment."
Rafael Behr, writing in the New Statesman, says: "Tories dismiss Labour as anti-business. Cameron must be wary of seeming anti-everyone else."
David Aaronovitch, writing in the Times, says: "Immigrant groups in Britain are generally better motivated than indigenous people, who often just can't keep up."
Got something you want to share? Please send any stories/tips/quotes/pix/plugs/gossip to Mehdi Hasan (mehdi.hasan@huffingtonpost.com), Ned Simons (ned.simons@huffingtonpost.com) or Asa Bennett (asa.bennett@huffingtonpost.com). You can also follow us on Twitter: @mehdirhasan, @nedsimons, @asabenn and @huffpostukpol