Katy Perry has kicked off her 'Prismatic' world tour in style at Belfast's Odyssey Arena, treating fans to a set full of her hits and no less than nine costume changes.
The 'Dark Horse' singer's hotly-anticipated tour will see her perform at venues up and down the UK before taking to the stage in the US, Canada and Australia.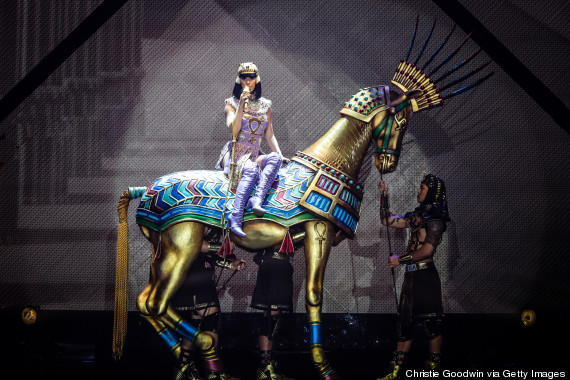 Katy Perry performs in Belfast
While plenty of Katy's costumes seem to be more than a little inspired by Cleopatra, the singer also sports a number of raunchier numbers, including lime green bikini and a neon catsuit.
Shortly after the gig, Katy took to Twitter to share her joy at getting the tour started, writing: "Um...It feels like we never left! Tonight was INSANE in all the best ways. I have a feeling the light hit everyone! #ThePrismaticWorldTour".
The 'I Kissed A Girl' star recently surprised fans by going undercover as part of a stunt in her latest music video, disguising herself as a variety of terrible party performers.
Katy has been enjoying some time off before starting the string of live gigs and recently attended the Coachella Music Festival.
Check out all the pics from the first night of the 'Prismatic' tour here…
LIKE US ON FACEBOOK | FOLLOW US ON TWITTER