Louis van Gaal is favourite to become Manchester United manager, which is a similar scenario to 13 years ago, when Sir Alex Ferguson announced he would retire from football management. However, Ferguson deferred - and spared United supporters a Sven-Göran Eriksson-led side - and collected six more titles and a European Cup.
A year on from his retirement, his legacy is not as secure as that rain-sodden Old Trafford finale he enjoyed in the penultimate game of last season. Ferguson lifted his 13th championship that day, whereas on Tuesday United's players completed a quick lap of honour, pausing briefly to allow Nemanja Vidić to bid farewell. Others will join him in the departure lounge over the coming weeks after a trophyless and tumultuous campaign. United will likely finish seventh, and no higher than sixth. The last champions to experience such a chastening decline were Blackburn Rovers under Mick Harford in the mid-90s.
José Mourinho could have managed United. He wanted to. Instead it will be his one-time mentor and superior at Barcelona, Van Gaal, who will come in to rattle some cages after David Moyes departed 11 months into a six-year contract.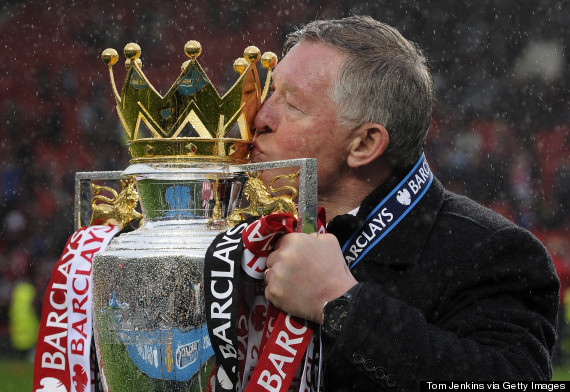 Crowning finale: Ferguson kisses the last of his 13 Premier League trophies in May, 2013
Moyes will be remembered as United's Wilf McGuinness, an outsider who could have been mistaken for an in-house appointment. Erroneously anointed by Ferguson in insular and disrespectful circumstances a year ago, Friday marks the date United announced he would succeed his compatriot. One feature on the club website was titled "cut from the same cloth". Ferguson is still preaching such blinkered romanticism.
Van Gaal's arrival will further marginalise Ferguson, who championed Ryan Giggs' credentials to manage United full-time last month. Ferguson would have known his quotes would appear in print and across the internet, yet United executive vice-chairman Ed Woodward will defy him and appoint Van Gaal next week. It is a case of when, rather than if.
United's aura has ostensibly diminished in the space of a year. The assumption they were not a sacking club because Ferguson, the League Managers' Association's arch-cheerleader, derided the habit, was mythical, though. McGuinness lasted 18 months after Sir Matt Busby. So did Frank O'Farrell after him. Tommy Docherty was fired for having an affair with physio Laurie Brown's wife. Dave Sexton went following seven consecutive wins and Ron Atkinson did not see out half the season before Ferguson replaced him in 1986.
"It's a terrible industry," Ferguson said at the Lowry theatre in October. "When clubs sack a manager there is no evidence it works. But there is evidence, and it's hard evidence, that sticking with your manager does work. This is an important issue and it is something I believe in, very strongly. Sacking a manager does not help." The hard evidence was Moyes did not produce a single shred of it to suggest he was a worthy successor.
Ferguson's attendance in the directors' box this season has been likened to the grim reaper. He is entitled to support the club he brought unparalleled success to and Moyes' struggles at home reflected how out of depth he was at a club of United's size, rather than Ferguson's overlord presence.
Yet Ferguson has topped polls on who to blame for United's worst season in a quarter of a century. During the 3-0 home defeat to Manchester City in March, he was abused by supporters for appointing Moyes. Ferguson's legacy was tainted by his support of the Glazer family owners, however the majority of United's following were acquiesced by the slew of trophies that followed. Now they are agitated, thanks, primarily, to the same man.