A talented university student has won a competition with famous lingerie brand Lepel and could soon see her designs sold in major high street retailers such as John Lewis and ASOS.
Poppy Spinks, a 19-year-old student at De Montfort University (DMU), was picked to win an internship with the company, as well as receiving £500.
Students in their second year of the Contour Fashion course at DMU were asked to design a collection of swimwear that complemented the brand. The course, which focuses on lingerie, nightwear and sportswear, is globally renowned with Beyonce wearing graduate Nichole de Carle's design to the Grammy's this year.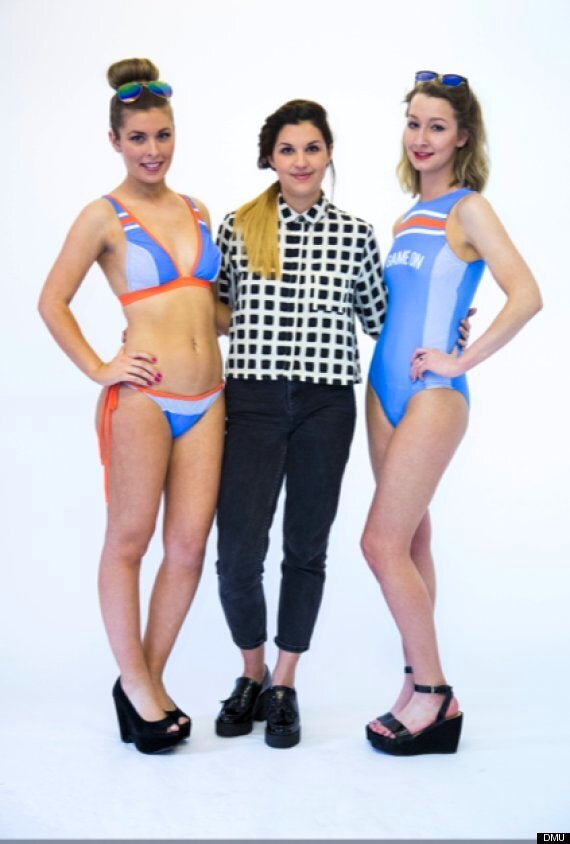 Poppy (centre) with her winning designs
Head of Marketing at Lepel said: "Poppy really impressed us with the direction she had taken. Her concept was very simple and incredibly clever which made it all the more unique because it offered mass appeal with the use of colour blocking. Equally impressive was how Poppy had taken a direction different to all of her peers - it showed a great strength of character."
We spoke to Poppy, who hails from Milton Keynes, to find out about her inspiration for her sporty swimsuits.
How does it feel to have won such a fantastic prize?
I wasn't expecting it at all because my work was a lot different from everyone else's and I thought that would not work in my favour but I guess it did the opposite!
Were you nervous entering the competition?
I didn't really think about it because it was around the time of a lot of our deadlines so it was just one more thing to tick off the list. It has just turned into something amazing! Overall it was a really valuable experience because it was just like presenting something to the industry, exactly like an interview. I had to stand with two models wearing my work and talk about where I got my inspiration and how that formed into my designs.
What was your inspiration for the collection?
Around the time when the project started was the same time that the Superbowl was on. I really like the whole sports look, so I decided to look at American Football. I took some inspiration from the DMU American Football team. I looked at the details of their helmets and the stripes of the kits.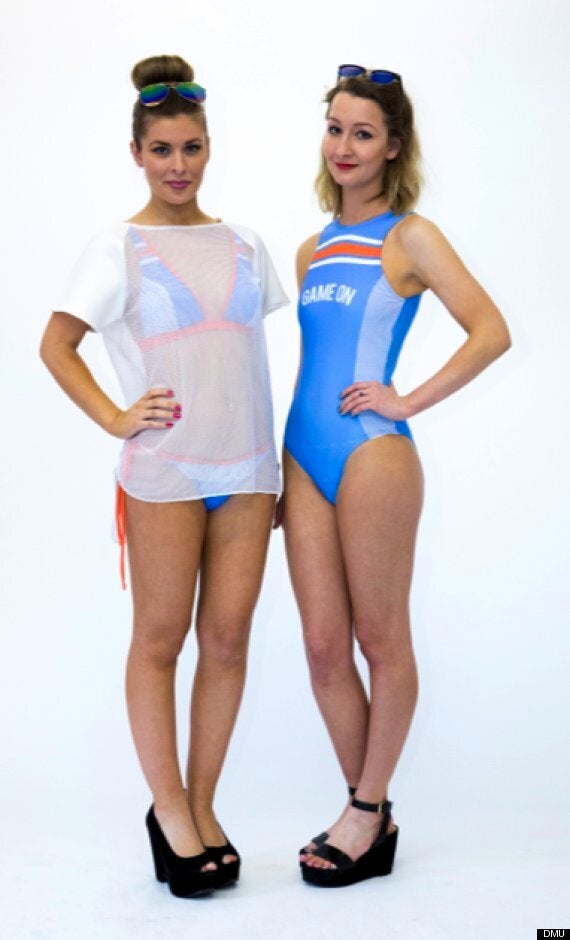 Why did you decide to study the Contour Fashion course?
I've always wanted to do fashion but because so many people want to get into it, I went more specific with my course choice. I thought I would have more chance of getting employed afterwards. DMU has such a good reputation - their employability rate is so high afterwards.
Are you up for the challenge of breaking into such a tough industry?
I wouldn't say I'm that worried because I haven't had a problem getting internships but obviously jobs are a lot different. Our course has such a good reputation and it really gets you ready for it. We do a lot of projects with external clients so that we get as much experience as possible. So I'm hopeful.
Are you going to be interning over the summer?
I won an internship with Lapel as part of the prize so I will spend a week or two with Lapel. A week before I won the competition I had an interview at a brand in Chelsea in London called Biondi Couture. I'm really excited to do six weeks in the summer with them. They have strong links with the course and one girl made something for Millie Mackintosh last year.
Who is your fashion inspiration?
That's a tough one. I don't have any specific designers because every time I design something I look more to fashion designers than current lingerie designers. Without sounding too cheesy my fashion inspiration is probably my sister. She is two years older than me and she graduated last year from Nottingham Trent in Fashion Communication and Promotions. She has always been cool and just does what your big sister does - she tells you what looks good and what doesn't!
Are you going to graduate fashion week?
I'm going to be helping backstage for people on our course. It's a very stressful environment because there's a lot going on, especially if the garments are complicated. Last year there were corsets and it was really difficult to lace someone up in a really tight corset in exactly the way a designer wants it in a matter of minutes. It's stressful but it's also a lot of fun. It is a privilege to go really because everyone works so hard and the garments are all so beautiful.
Where do you see yourself in 10 years time?
I've never really aspired to have my own brand. I would just like to do really well with someone else's! But you never know. I am aiming to maybe do a masters or an internship in California when I graduate, so maybe I will be there. I want to do the same sort of thing - pattern and design work. I know I definitely want to focus on swimwear.
Do you have any advice for prospective fashion students?
I would say you have to work at it every day for as long as you can. If you are not constantly trying to build your dream, other people who are building theirs will just run right past you. You have to be motivated and determined and its all the little jobs that make up to the final end project!