North Korea has used sickening racist language to lash out at Barack Obama, calling the US president "reminiscent of a wicked black monkey."
The White House sharply condemned the screed against the President, calling the rhetoric from Pyongyang "particularly ugly and disrespectful."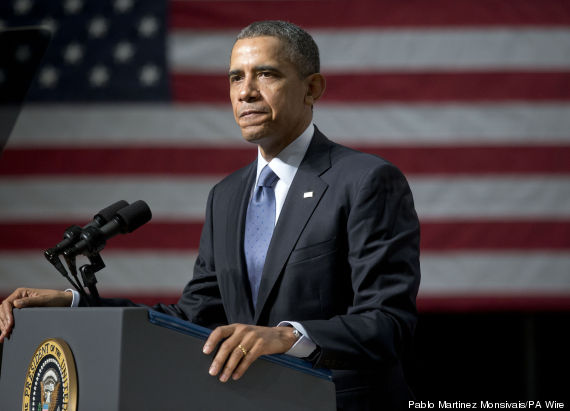 The vile North Korean editorial, which also called South Korea's President Park Geun-hye an "old prostitute," was published in English on Friday during Obama's tour of Asian nations.
"He is a crossbreed with unclear blood," the North says.
And later: Obama "still has the figure of a monkey while the human race has evolved through millions of years."
Another KCNA article from that same day -- this one in Korean incredibly managed to raise the bar even further on appalling racism.
According to North Korea blogger Josh Stanton, the second story said Obama "should live as a monkey in an African natural zoo licking the breadcrumbs thrown by spectators." The article also calls Obama a "crossbreed with unclear blood."
The White House — which often ignores the rhetorical excesses of the North Korean regime — voiced its disgust over the especially repugnant comments.
"While the North Korean Government-controlled media are distinguished by their histrionics, these comments are particularly ugly and disrespectful," Caitlin Hayden, a spokeswoman for the National Security Council, said in a statement.
Frank Feinstein, who runs the North Korean propaganda monitoring service KCNA Watch, told NK News: "There is no similar instance of this sort of language in the recent KCNA history."
Despite North Korea's defiant isolation, another recent diatribe in the state press shows some are paying close attention to US politics. In response to a February U.N. report detailing "crimes against humanity" in North Korea, Pyongyang released its own report calling the US "the world's worst human rights abuser." Citing NSA surveillance, unemployment and gun crime, the report boldly asserts that "the US is a living hell."
While Americans are "the grip of famine," the report says, Obama "indulges himself in luxury almost every day, squandering hundred millions of dollars on his foreign trip in disregard of his people's wretched life."