Kiev's protesters used plastic coke bottles as gas masks, now pro-Russia protesters in the country's east have resorted to rather more retro battle gear - suits of armour.
New footage of separatists in Odessa clashing with Ukrainian nationalists last Friday shows one man in full medieval armour, with his neck protected by chain mail, to protect himself from bombardments of rubble.
Standing next to a man in a motorcycle helmet, the man wears a tabard from a knight's costume, armour around his hands and arms, and a solid metal helmet.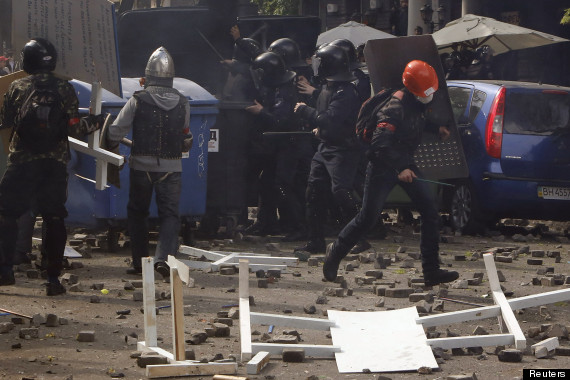 New footage of separatists in Odessa clashing with Ukrainian nationalists shows a man in chain mail
The Ukrainian nationalists, including several women, can also be seen smashing pieces of rubble into small piece to hurl at the pro-Russian separatists in the port city.
The scuffles developed into full-blown riots over the weekend, with 46 people killed in the violent clashes and a fire that engulfed the town's trade union building.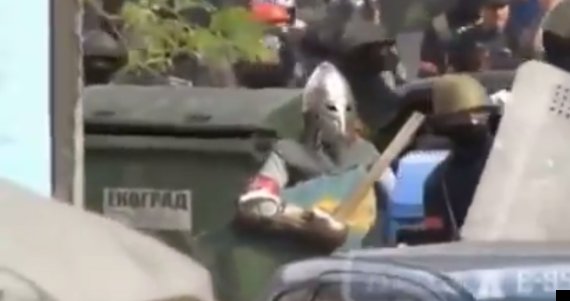 The man is wearing a full metal helmet and has his chest clad in armour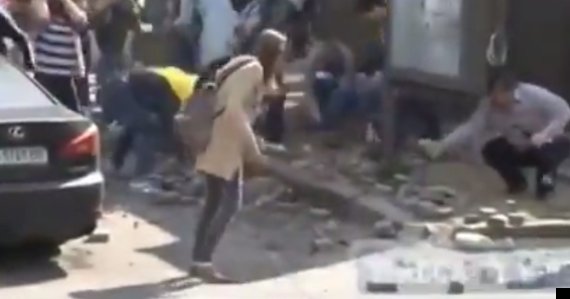 a
This Ukrainian nationalist breaks apart pieces of rubble to throw at separatists
This Sunday, pro-Russia rebels across several eastern Ukrainian cities are planning to hold a referendum on independence from Kiev, echoing the Russian annexation of Ukraine's Crimea region.
But President Vladimir Putin, who visited Crimea today, has ostensibly rejected any further territory in Ukraine, and called on the protest leaders to halt their referendums, a call pointedly ignored by rebel leaders.
The Russian president addressed the navy in Sevastopol harbour for a celebration marking the 1945 Soviet victory over the Nazis.
"I am sure that 2014 will go into the annals of our whole country as the year when the nations living here firmly decided to be together with Russia, affirming fidelity to the historical truth and the memory of our ancestors," Putin said.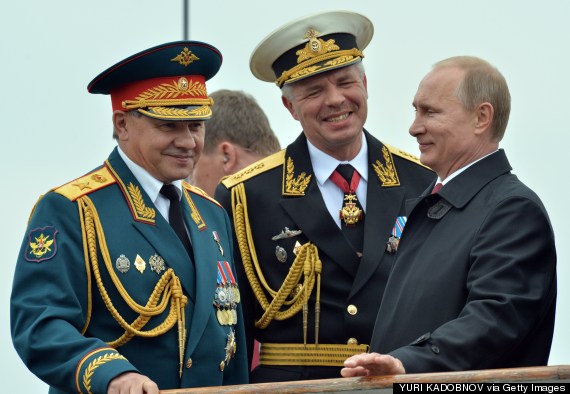 Russian President Vladimir Putin speaks with Defence Minister Sergei Shoigu during his visit to the Crimean port of Sevastopol
Nato's Secretary General Anders Fogh Rasmussen called the visit "inappropriate".
"We consider the Russian annexation of Crimea to be illegal, illegitimate and we don't recognise it," he said.
US State Department spokeswoman Jen Psaki on Tuesday responded to a reporter's question about a potential Putin visit to Crimea by saying: "I hope he enjoys his visit to Ukraine."
His visit comes as more than 20 pro-Russian militants have reportedly been killed by Ukrainian troops as they tried to re-take an occupied police headquarters in Mariupol, southeast Ukraine.
Sky News reported that the building holds one of the largest armouries in the city, and the weapons are being used against the troops.