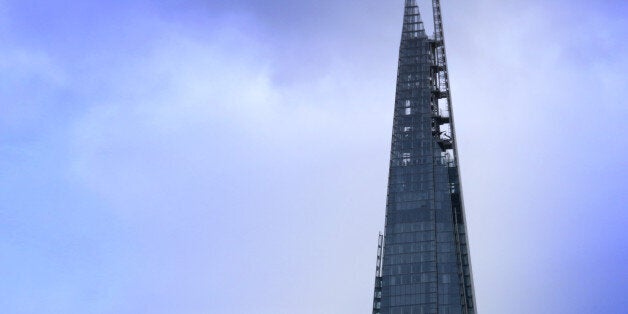 Guests at The Shard are being warned to close the blinds as some of them may get to see more than they bargained for.
A quirk in the design of the Shangri-La Hotel at one of Europe's tallest buildings, which sits on the upper floors of the 306m-tall skyscraper in central London, means that glass panels protruding from the building's corners act as mirrors once internal lights are switched on at night.
It can provide an, er, unexpected glimpse of a neighbour.
The hotel, which opened last week, boasts ceiling-to-floor windows, London's highest champagne and cocktail bar, spectacular views from 125 metres above the city along with state-of-the-art conferencing technology and tailor-made catering services.
It was designed by the Italian architect Renzo Piano, with prices starting from £450 per room per night.
A spokesman said the quirk happens in a limited number of rooms and guests are warned that if they want enhanced privacy they should use the blinds, which were largely installed so they are not woken up by the dawn.
Darren Gearing, the executive vice president and hotel general manager, said: "As a building created largely from glass, all guests can enjoy spectacular views of London from floor-to-ceiling windows.
"In some rooms, due to the unique shape of The Shard, guests may be able to glimpse into a neighbour's room. For this, blinds are available for guest privacy and this will be part of the guest orientation to the room by our team, as every guest in our hotel is checked-in in the room."
Mr Gearing also told the Financial Times that "for this (problem), blinds are available for guest privacy".
The glass-clad venue is billed as a 306-metre-high "vertical city" located on the South Bank of the River Thames. There are 202 guestrooms and suites and each of them has a view, the hotel says.
Shangri-La Hotel, At The Shard, London is the Hong Kong-based hotel group's 83rd hotel and third in Europe, following the openings of Shangri-La Hotel, Paris and Shangri-La Bosphorus, Istanbul in 2010 and 2013.