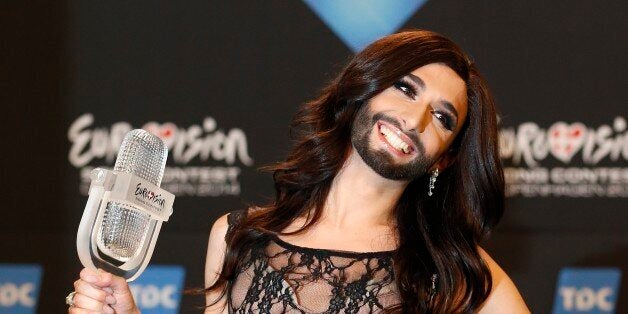 The UK's drought of Eurovision Song Contest victories continues after the nation's entry again fell well short of the top spot.
Despite optimism of a strong showing in this year's competition, former shop assistant Molly Smitten-Downes could only place 17th with Austria's "bearded lady" Conchita Wurst finishing the clear winner.
Smitten-Downes had been among those tipped to place highly with self-penned song Children Of The Universe and wowed a lively audience in this year's host city of Copenhagen.
If she had managed to win, it would have been the first British entry to do so since Katrina and the Waves came top of the leaderboard in 1997 with Love Shine a Light.
But it was not to be for the 27-year-old singer-songwriter on the night.
It is estimated the competition was watched by 180 million viewers across 45 countries.
After securing her victory, Conchita said: "This award is dedicated to everybody who believes in a world of peace and freedom.
"You know who you are - we are unity and we are unstoppable."
As the voting began, Smitten-Downes opened her account with five points from the principality of San Marino, and continued scoring steadily throughout before eventually finishing on 40.
Despite the loss, her performance will go some way to easing memories of Britain's poor run of form in the competition in recent years, with dire scoring condemning both Engelbert Humperdinck in 2012 and last year Bonnie Tyler to the bottom end of the voting table.
On the night the talented songstress, who was the last act to perform, faced off against other strong pre-competition favourites Sanna Nielsen representing Sweden, The Netherlands and Austrian drag artist Conchita.
Conchita elicited huge cheers from the crowd as she took the stage in a fitted gown, and her trademark facial hair, before delivering an accomplished performance of her song Rise Like A Phoenix.
She went on to secure her victory with three rounds to spare eventually accumulating 290 points.
Sweden finished third with 218 points, behind second placed Dutch act The Common Linnets who totted up 238 points.
The contest has established itself as a showcase of eccentricities and did not disappoint, with highlights provided by France's entry Twin Twin, which had audience members singing along with their catchy toe-tapper Moustache, while the Swiss group Sebalter featured a whistling folk-rock number.
Among some of the unusual stage props this year was a trampoline and a human-sized hamster wheel, while there were also some eye-catching outfits.
At one point, host Graham Norton, who was commentating for the UK audience tuning into BBC1's coverage, was left speechless by a particularly risque display by Poland's entry Donatan and Cleo.
Their performance prominently featured scantily-clad female performers suggestively dancing to lyrics which included the line "shake what your Mama gave you".
Norton, who had been delivering his trademark brand of sardonic commentary throughout the night, himself became the butt of the Danish hosts' jokes at one point.
He was blasted with confetti before a salvo of fireworks was detonated, prompting Norton to deadpan live into the broadcast camera: "How lovely, it's so fun. It's like a gay wedding, I'll never have."
Smitten-Downes is originally from Rothley in Leicestershire but moved to London with her partner five years ago in order to forge her singing career.
Until January she had worked as a retail assistant for Topshop, before she was offered the spot as UK entry.
Performing in a tribal-themed gold mini dress, knee-length high-heeled gladiator sandals and with henna tattoos covering her arms, Smitten-Downes had the crowd fist-pumping along to her track and was rewarded with a big cheer as she finished.
History had been against an out-right victory for the British singer, as the last time the final act of the night won the contest was Yugoslavia back in 1989.
A shadow was also cast over the competition's usually entirely light-hearted atmosphere by ill-feeling caused by the current crisis in Ukraine, with Russian entry the Tolmachevy Sisters receiving boos from some sections of the audience.
There were raucous jeers as Azerbaijan, the first country to announce how it was casting its votes, gave 12 points to Russia, and the boos continued as Greece followed up by awarding the country 10 points.
When the immaculately presented female Russian host then appeared via video link to announce the nation's casting of votes - including seven for Ukraine - the crowd again loudly voiced their displeasure.
Ukraine, for its part, handed four points to its neighbour.
Host Norton, commented on the boos and referring to the Russian entrants, said: "I feel so sorry for those two girls, they're only 17.
"It's unfortunate they're being subjected to it - but we totally understand it."
Smitten-Downes did not go home completely empty handed as the Danish TV hosts handed her "a curly wurly cake" flown in from her local market back in the UK.
The singer, who appeared slightly wrong-footed by the gesture, accepted the cake saying: "What on Earth?"
Asked if she would be sharing it with her mother, father and brother, she then joked: "They're not getting any - this is all for me."