Chaotic scenes have been reported as rebels in the east of Ukraine stage a referendum calling for "self rule" that has prompted condemnation from Kiev and the West.
People in Donetsk and Luhansk, where many locals are Russian-speaking, voted on Sunday and there were reports of too few polling stations serving the area and ballot boxes being moved out on to the street, as violence continued overnight.
Ukraine has accused Russia of orchestrating the activities of the separatists in its east, amid growing tension between the two countries.
Russia has already occupied and annexed the crimea, where a referendum took place afterwards in which the vast majority of voters back a union with Russia.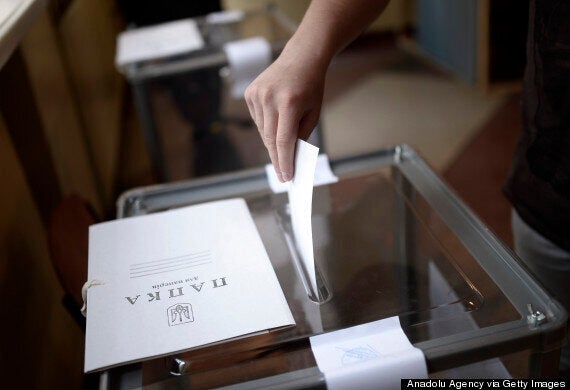 The ballot asked voters if they supported self rule in their 'People's Republic'
Ukraine's interim president, Oleksandr Turchynov, called the referendum illegal and said it would be "a step into the abyss".
The ballot paper asked: "Do you support the Act of State Self-rule of the Donetsk People's Republic/Luhansk People's Republic?"
He said: "Organisation is chaotic at best. There are no polling booths: people vote at the registration desks. People's details are hastily scribbled on generic forms. There is also a collection for money towards funding the Donetsk People's Republic.
"The chairman of this polling station said people from other regions are permitted to vote here. He said their details would be taken down, and then, to ensure they haven't voted elsewhere, 'the lists from different polling stations would be checked against each other'.
"Asked how long such a mammoth task would take, he replied 'one day'."
A 33-year-old engineer voting in the town told Reuters he would be voting yes.
"We're all for the independence of the Donetsk republic," he said. "It means leaving behind that fascist, pro-American government (in Kiev), which brought no one any good."
A second day of voting is due to take place on May 18. The referendum's organisers said they would boycott Ukraine's presidential elections on May 25.
German Chancellor Angela Merkel and French President Francois Holland called on the Kremlin to "send more signals of de-escalation" and have threatened further sanctions if Ukraine's May 25 elections fail to go ahead.
The two countries said that they are "ready to take further sanctions against Russia" if the elections are cancelled.
Popular in the Community