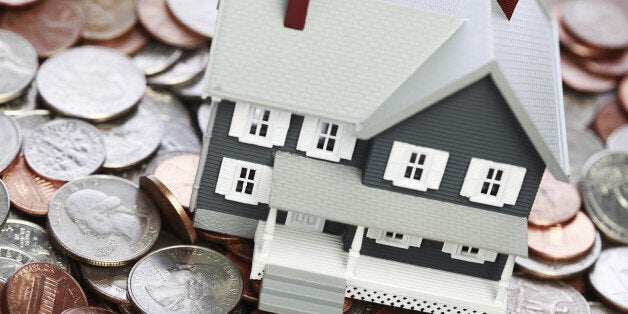 Interest rates will have to rise in Britain early next year to head off the overheating housing market, the Confederation of British Industry (CBI) has warned.
The business group issued its warning in its regular assessment of the UK's growth prospects, in which it upped its forecast for this year from an increase in gross domestic product of 2.6% to 3%
CBI Director-general John Cridland said property values were expected to rise by 8.2% this year, and 5.1% next.
"We have to remain alert to the risks posed by unsustainable house price inflation, and the [Bank of England] Financial Policy Committee is poised to act when necessary," he said.
"Housing has come back under the spotlight as annual house price inflation figures have reached double digits on some measures.
"While housing transactions are still running almost 30% below their last peak in 2006, they are picking up steadily."
The CBI's warning comes as economists who previously backed the government's Help to Buy mortgage guarantee scheme, which critics said would increase house prices by helping housing demand as the supply of new houses remains slow.
Kate Barker, a former Bank of England Monetary Policy Committee member who sits on the board of the housebuilder Taylor Wimpey, said the last year's house price surge has changed her views on the scheme.
"I thought it was a helpful and understandable intervention for a government to make at that particular point in the mortgage market," she told the Financial Times. "But it does raise the question of when they should stop doing it."
Michael Saunders, UK economist at Citi, said that the scheme was "no longer needed" in light of strong economic growth and falling unemployment.
The CBI previously predicted that the Bank would have to start raising rates in the third quarter of next year - but has now brought that forward to the first quarter.
Housing minister Kris Hopkins said: "The government is committed to delivering long-term economic stability and economic growth. The last administration oversaw a housing boom and bust and we've been picking up the pieces.
"Mortgage lending activity in the housing market and loan-to-value ratios on new mortgage lending remain below their historic averages. And while the price rises we're seeing at the moment are nowhere near what they were at the height of the unsustainable housing boom, they are a sign of how the economy is recovering from the downturn.
"For those wanting to get on the housing ladder, we have introduced schemes like Help to Buy. This means that people can get on the housing ladder with a fraction of the deposit they would normally require. And it's why we've tackled the deficit, to help keep interest rates low and mortgages more affordable."

Absurdly Fancy Islands Cheaper Than A London Flat