Wilmots only confirmed last month Januzaj had pledged his international allegiance to the Belgians, having seriously considered representing Kosovo.
However Kosovo is neither a member of Fifa nor Uefa, and Januzaj, who was born in Brussels and began his career in the Anderlecht academy, will represent the Red Devils.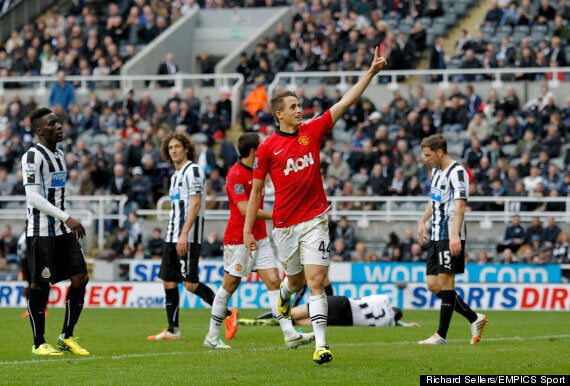 Januzaj scored four goals during his debut season with United
The 19-year-old scored four goals in his debut campaign at Old Trafford and was one of the few positives to emerge from a turbulent campaign.
Januzaj's fellow Manchester residents Marouane Fellaini and Vincent Kompany are also in the squad, along with Liverpool goalkeeper Simon Mignolet, Arsenal captain Thomas Vermaelen, Tottenham's Jan Vertonghen and Mousa Dembélé, Chelsea forwards Eden Hazard and Romelu Lukaku, and Everton winger Kevin Mirallas.
Mirallas actually questioned whether Januzaj should go to the finals and was told to "stop talking nonsense" by Wilmots in April.
"That's not his job. For this, he should be silent," Wilmots said.
"The rules are: you have to talk about yourself, but not the others. On the selection I decide, Kevin may have his opinion, but he should not talk about others, or how new players like Januzaj can affect the group atmosphere?
"Stop talking nonsense. We have never had a problem when there is a new player. For Januzaj that will not be a problem. He has an exemplary attitude."