You can now exchange second-hand games, monitors and old Nokia handsets for Bitcoin.
Tech and gaming exchange shop CEX has started a three-day test of the digital cryto-currency, becoming the first physical UK retailer to do so.
CeX, the high street chain that buys, sells and exchanges technological and electronic products, is switching from the pound to digital currency Bitcoin exclusively in its store in the Sauchiehall area of Glasgow.
While using Bitcoin to buy products is becoming increasingly common in stores and online in the UK, CeX will be the first outlet to pay out in the currency, meaning customers can earn the currency for the first time, by selling goods.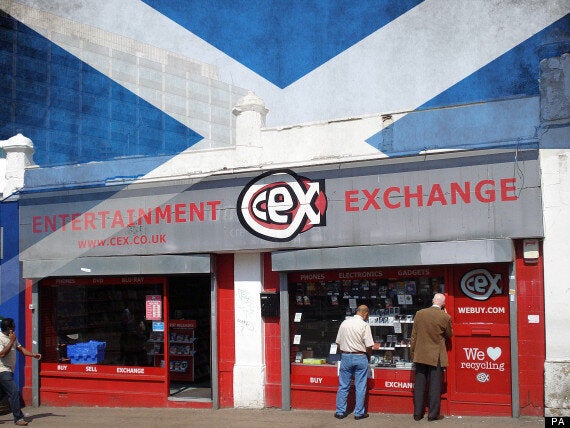 David Butler, commercial director at CeX said:
"It's really exciting to be at the centre of such an innovative trial. In our store, the staff and customers live and breathe technology so it's only appropriate we looked at Bitcoin as a way for our customers to buy and sell electronic goods. Not only does Bitcoin have a number of security and access benefits, but it is also gaining popularity amongst consumers the world over.

"While we are temporarily dropping the pound from our Glasgow store, at a time when Scottish Independence is high up on the news agenda, we are doing so to give customers a choice in how they trade with us."
Bitcoin is an entirely virtual currency that works without the need for a central bank, and can be sent over the internet. Coins are transferred directly from person to person, and are kept in a digital wallet that can be accessed on a computer or mobile device. Creating new coins is done through a process called "mining" where users are rewarded with new coins for verifying transactions that take place.
The process is open source and can therefore be used by anyone, with more and more mainstream businesses now accepting the currency as a form of payment.
According to a report by The Why Forum, the number of Bitcoin transactions globally have increased tenfold in the last year, and are now worth more than £40 million.
Several pubs as well as some taxi companies around the UK have begun to accept the currency as a means of paying for goods.
Part of the scheme is designed to highlight the pressing issue of Scottish independence, with the country going to the polls in September to vote on leaving the UK. CeX says this trial will offer an opportunity to show that the country could manage without the pound.