Ben Affleck's first photo as Batman has received a mixed reaction from users on Twitter, with many commenting on the star's weight.
It was announced last year that Ben would be taking on the role of Batman in 'Batman vs. Superman' and on Tuesday afternoon the film's director Zack Snyder shared the first ever photo of Ben in his Batman costume.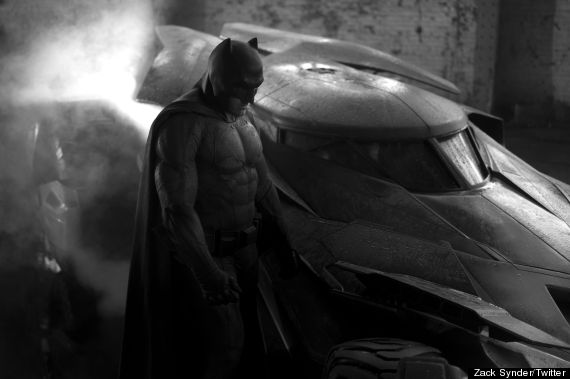 Ben Affleck as Batman
The photo has since been retweeted over 42,000 times in less than 24 hours, though it has received of a mixed reaction, with some fans of the 'Batman' franchise complaining that Ben is looking a little heavy...
Ben affleck as batman will be lame no matter how many cool batmobiles Snyder makes him stand next too. Looks like a fat guy in a muscle suit

— SP (@sellemhigh) May 14, 2014
Is it only me that thinks Ben Affleck looks like a fat Batman? Not happy!! But the Bat mobile looks very beautiful indeed!

— Ashleigh Kennedy (@AshleighJohanna) May 13, 2014
I'm really digging Zack Snyder's picture of Ben Affleck as Fat Daredev… I mean… Batman.

— Jason Windsor (@jasonwindsor) May 13, 2014
While we'll admit Ben may be looking a little on the 'stocky' side, calling him 'fat' may be a step too far and a number of Twitter users have hit back at the comments.
Several fans of the actor leapt to Ben's defense, including the ones below...
Wow. Ben Affleck's Batman is 'fat'? Nice one, idiots.

— DJ Dellamorte (@DJDellamorte) May 14, 2014
Anybody calling Ben Affleck's Batman 'fat' should probably put down their calzones and take a look in the mirror.

— [Mystery Executive] (@MysteryExec) May 13, 2014
Anyone excited to see Ben in action has a long wait ahead, as the forthcoming film - which will also see Amy Adams reprise the role of Lois Lane and Gal Gadot make her debut as Wonder Woman - is not scheduled for release until 2016.
Val Kilmer and George Clooney have previously played the superhero, though this newly released photo suggests the new movie will focus on the darker elements, as seen when Christian Bale took on the role in Christopher Nolan's 'Dark Knight' trilogy.
href="http://www.facebook.com/HuffPostUKEnt"target="_hplink">LIKE US ON FACEBOOK

| FOLLOW US ON TWITTER