Double Paralympic champion and former Formula 1 driver Alex Zanardi has returned to Brands Hatch for the first time since he claimed two gold medals at London 2012.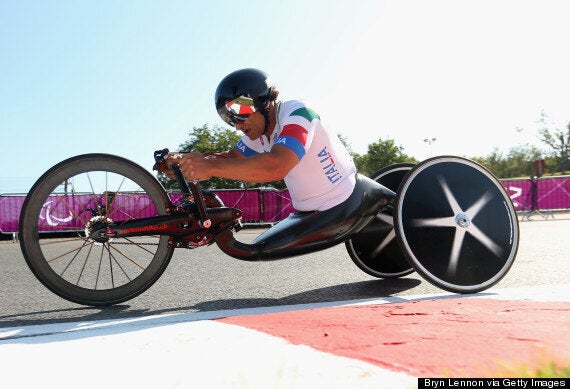 Alex Zanardi won two gold medals and one silver medal at London 2012
The Italian lost both his legs in that crash at the Lausitzring in 2001 but within two years he was back racing, this time in the World Touring Car Championship. He followed that by taking up handcycling, culminating in Olympic glory at the London Games. This weekend Zanardi has returned to horsepower though as he pilots a BMW Z4 for ROAL Racing in the second round of the Blancpain Sprint Series, a championship for GT cars from marques such as Audi, Ferrari, Lamborghini and Mercedes.
Zanardi finished 13th in the opening round at Nogaro four weeks ago, a promising start after four years away from motorsport, but a result that does not tell the whole story.
"You have to remember that my finishing position at Nogaro was also because we had technical problems and I raced the last four laps with only fourth gear to use, which is not great for racing," Zanardi wryly told The Huffington Post UK.
"I had got up to eighth place in the race and we could have finished in the points without doubt."
Zanardi may only be talking points but don't imagine that he is only in the series to make up the numbers.
"I would not be here if I did not think I could get the job done. I've not come back to racing to be the nice guy and sign autographs. I race because of the passion I have for the sport and the emotion when I get behind the wheel of a racing car. And this car is a fantastic race machine.
"It is a much closer machine to an F1 car than many others I have raced. The Z4 has lots of downforce, power, it performs like a single seater – and it looks very sexy too."
The double CART champion holds a special affection for Brands Hatch since his 1991 debut there in an F3000 race (he finished second), something that is reflected in the appreciation of the fans who flocked there in 2012 to see him and those attending this weekend.
"It's great to be back at Brands Hatch, I have fantastic memories of beautiful days here. I can think back to 1991 when I raced here for the first time and then I had a double podium finish in 2009 when I raced in the WTCC.
"London 2012 was a dream come true. I'd only wanted to be present at the Games, so to win two golds was incredible. I love this place. I've raced and won at other circuits but I've not always liked them. Brands is beautiful, I love to come back here."
Zanardi's return to four wheels has not signaled the end of his handcycling ambitions though. He is dovetailing Blancpain commitments with his continued training and development that will hopefully lead to Rio in 2016. And that includes this year's World Championships in Greenville, Carolina, in August. Last weekend he was in Spain for the first round of the world championships where he competed in the team relay and the time trial, winning the latter.
Speaking on Saturday while waiting for the Blancpain qualifying, Zanardi reflected on the day's two practice sessions in which he'd finished 10th and ninth respectively. In spite of not being able to complete a full flying lap, the 47-year-old was still feeling cautiously confident.
"Fingers crossed but a top 10 qualifying position is possible and I think that is needed as our race pace is excellent," he told HuffPost.
"Ultimately, it comes down to how we perform related to the performance of our opponents. We may end up disappointed but I am hopeful.
"In fact I'm more than hopeful. This car is competitive."
Related