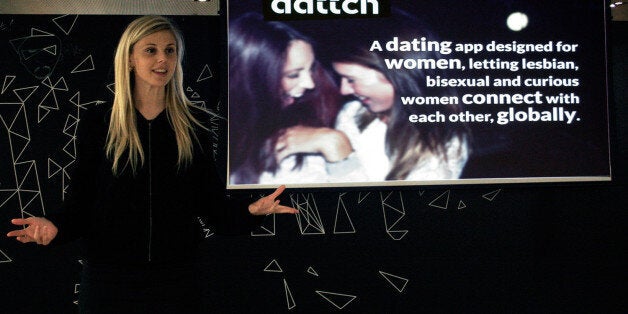 This week we caught up with Robyn Exton, the 27-year-old founder and CEO of Dattch, a new app created exclusively to help lesbian, bisexual and bi-curious women meet each other.
Already popular nationwide across the UK and Ireland, Dattch is also doing well across the pond, having launched eight weeks ago in San Francisco and an LA launch on 9 May. Robyn told us all about what it's like to be a young woman making her own way in the tech sector, and shared some useful tips on how to turn your ideas into reality.
I was in the pub with some friends one Sunday and one of them had just broken up with her girlfriend. To get her back on the dating scene we started signing her up to an existing lesbian site that a few of us had used before, but as we were doing it, we realised that everything out there for the lesbian community was essentially a re-skin of an existing gay male site. Grindr changed everything for the gay market, but as of yet, no one had thought about how to build a product that really appealed to women. I realised this was a huge problem that really needed addressing.
I was working at a branding agency at the time and one of my clients was actually a dating business, so I did have some relevant experience. I decided to build a prototype and got it out into testing as soon as possible. I then joined Wayra, Telefónica's start-up accelerator, which really helped push Dattch to the next level. When I joined Wayra, I was a single founder with a prototype being used by a small community; now we're a 6-strong team with a fantastic app that we're all really proud of – so it really did give me that critical first leg up I needed to get started.
What's it like to be a young woman in the world of tech?
I genuinely believe the tech sector offers fantastic opportunities for everyone, including young women, but I'd be lying if I said it wasn't male dominated. When you go to big tech events, it's hard to ignore the lack of female faces in the room. Having said that, because women are so underrepresented, there's a huge drive to get young women involved in tech and showcase the opportunities available to them. The amount of support I've received has been incredible, and I've found that everyone in the sector feels really strongly about addressing the gender imbalance.
A couple of friends and I also run a programme called GeekGirl Meet-up, where we arrange monthly meet-ups to encourage women in tech to get together, network, and learn from each other. We hear from a variety of interesting speakers and discuss a different topic each month. It's a worldwide programme but we run the London division and it's become really popular, which proves that there's a big appetite in this community.
Have you come up against any difficulties/obstacles?
Every day something happens that has the potential to derail you and make you think you can't do it, so determination and a thick skin are absolutely crucial.
For me, one of the biggest challenges has been creating a product in a space that doesn't really exist. A lot of initial feedback showed that no one believed lesbian dating could be a market in itself – people were of the mind-set that, as it hasn't been done before, that means it can't be done. Dating is one of the oldest internet businesses and yet services have always been created by men, partly because women only started breaking through in tech fairly recently. Even when services are marketed at women they have still been conceived and designed by men, so I knew that creating something new for women by women was worthwhile – I just had to prove it.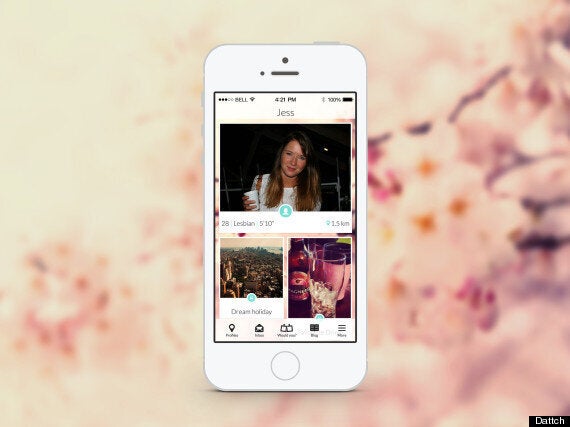 What's been the best part?
Everything! You meet the most incredible people every day; people running their own start-ups who care passionately about changing how the world currently works, people who have accomplished huge goals already and people who are just getting started and have ambitions with no fear.
I've spoken to people who have thanked me for helping them meet someone special and for helping them accept their sexuality, so knowing that we're creating something positive as well as a profitable business is a fantastic feeling.
What advice would you give to young people looking to launch their own start-ups, particularly in the tech sector?
My advice would be to just to start doing something. Don't sit on an idea, act on it. As soon as you start exploring the idea, you can find out whether it has legs.
I find a good starting point is to think of the worst thing that could possibly happen, whether that's losing some money, getting bad feedback or starting over. If you're comfortable with whatever that is, then there's nothing to be scared of. For all young people – boys and girls – the amount of risk involved can be off-putting, but I find 'fail gloriously' to be a pretty empowering mantra.
My final piece of advice is to ask for help; don't try and go it alone. Being part of Telefónica's Wayra accelerator programme has meant I'm surrounded by lots of different start-ups all day every day, so you couldn't ask for a more creative or energised atmosphere to work in. Some teams may be one step ahead of you, while others may be experiencing similar technical problems; either way, they provide a real support system that you just wouldn't get from working alone.
Where do you see yourself in 5 years' time?
The truth is, I have no idea! When you're working in any start-up, the business can change significantly in three months. If you'd asked me 4 months ago whether I'd be launching in America now, I'd have said absolutely not! All I know is that I hope I'm working on something that I passionately care about.
If you're launching your own start-up and need a helping hand, go to uk.wayra.org/ to check when the next round of applications begins.