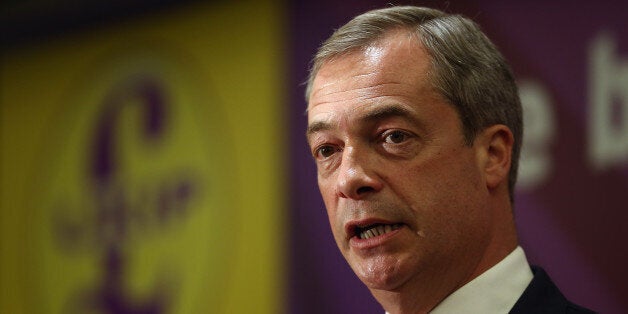 Here are the five things you need to know on Monday 19 May 2014...
1) 'I'M NOT A RACIST, I'M JUST TIRED'
That's essentially Nigel Farage's argument (defence?) when asked to justify his anti-Romanian remarks in Friday's LBC interview - and counter repeated accusations of racism. From the Telegraph front page:
"Last night, Mr Farage spoke of 'regret', telling ITV News: 'I was completely tired out and I did not use the form of words in response that I would have liked to have used. I should have hit back and said, 'Look, understand, there is a real problem here, you can't deny it, too much criminality from those gangs from Romania has come to London'. I could have been clearer, but do you know what? In life, sometimes I get things wrong.'"
The problem with this defence (excuse?) is that it wasn't a stray, careless remark in a single LBC interview - Farage said people should worry about Romanian neighbours in a Guardian interview several weeks ago, then repeated the line on the Andrew Marr show on BBC1 and, after he was criticised for making the same remark on LBC, his party produced a statement doubling down on it. So 'tiredness' doesn't cut it.
Plus, on the racism front, the Mail revives some pretty ancient though pretty damning accusations - from Farage's predecessor as Ukip leader:
"The founder of Ukip last night revived claims that Nigel Farage repeatedly used the N-word when referring to black voters - as the party was plunged into turmoil over allegations of racism. Professor Alan Sked said a storm of controversy provoked by Mr Farage's remarks last week about Romanians 'backs up what I have always said' about the Ukip leader's private views on race. 'He told me, 'We needn't worry about the n****r vote',' Professor Sked told the Daily Mail. 'He added: 'The n**-n**s will never vote for us.'' The professor of international history at the London School of Economics added: 'His comments were made when he was urging me to allow former National Front candidates to stand for Ukip [in 1997]. I refused.'"
Farage has denied Sked's controversial claims as "absurd" - and can take comfort in the fact that his party, despite the litany of racism controveries in recent weeks, is on course to top the European elections on Thursday.
Still, it's difficult to disagree with Nick Clegg's line on the Andrew Marr show yesterday, about how Farage's mask is beginning to "slip" and and "behind the beer-swilling bonhomie is a really nasty view of the world".
2) MILIBAND'S WAR ON LOW PAY
Who says Ed Miliband has no policies? The Labour leader is going after the votes of the squeezed bottom, not just squeezed middle, this morning - from the Guardian splash:
"Ed Miliband will set out radical plans on Monday to tackle low pay, announcing that a future Labour government would set a statutory minimum wage target linked to average hourly earnings. The proposals mark the first time Labour has suggested a long-term link between minimum wage and median earnings, rather than setting the figure in cash terms according to what the economy can afford year on year. Labour would attempt to reach the target over five years, and sees it as analogous to the government setting an inflation target for the Bank of England. Miliband will not announce the precise figure until before the general election. But a recent Resolution Foundation commission report on the minimum wage, chaired by Professor Sir George Bain, the first chairman of the Low Pay Commission (LPC), recommended a rate at 60% of average earnings as a 'reasonable lodestar'. That would put the UK minimum wage in the top third of developed countries."
It's a bold move by Miliband and will provoke resistance - the CBI has already come out to express its "concerns" and senior Labour figures such as Ed Balls and Chuka Umunna, who have warned that Labour can't afford to go into the next general election without business support, will be deeply anxious about the response from other private sector groups.
"AstraZeneca today rejected a final £69 billion takeover offer from Pfizer, saying the American company had still significantly undervalued the British pharmaceutical business. Viagra maker Pfizer wants to create a new pharmaceuticals giant that will be domiciled for tax purposes in the UK. The US company said the offer worth £55 a share was 15% more than its previous proposal on May 2 and also represented its fourth and final approach. Pfizer added that it will not make a hostile offer direct to AstraZeneca shareholders, instead urging them to press the company's board to begin substantive engagement over a deal."
BECAUSE YOU'VE READ THIS FAR...
"David Cameron has been warned not to bypass Conservative MPs by putting a future coalition deal with the Liberal Democrats direct to party members. Mr Cameron has tacitly accepted the demands of figures such as Graham Brady, the chairman of the 1922 committee, which represents Tory backbenchers, that he give backbenchers a vote on another power-sharing deal with the Lib Dems. Some of his allies, however, want him to go over the heads of MPs and also put a coalition deal directly to the Conservatives' 120,000 members. Mr Cameron accepts that he needs to do more to bind in Tories if a coalition is the only way that he can remain in No 10, but fears that the MPs' vote would mean that a second term was damaged from the start."
Whether or not he puts a future coalition deal to Tory members, which is highly unlikely, in my view, the fact is that even allowing a vote on it by Tory MPs means it'll be much more difficult for a second Conservative-LibDem coalition. In case he hadn't noticed, most backbench Tory MPs loathe the Lib Dems and want a Tory minority government if there's another hung parliament in which their party is the biggest single party. I don't blame them and I make the case for minority government in this recent column.
Does the British government puts its strategic and commercial interests ahead of its concern for human rights? Oh yes.
"A Bahraini teenager fears he will be tortured when he is deported to the repressive Gulf state this week after his asylum application was rejected by the British Government. Isa Haider Alaali's deportation comes as the Royal Family have been playing host at the Royal Windsor Horse Show to the King of Bahrain, Hamad bin Isa Al Khalifa, and his son Prince Nasser bin Hamad Al Khalifa, who faces a High Court judicial review over whether he has immunity from prosecution for alleged torture... Home Office documents obtained by The Independent show the 19-year-old is due to be flown back to Bahrain on Thursday morning. Mr Alaali, who was sentenced to five years in prison in absentia by a Bahraini court in March on charges of illegal gathering and rioting, is unable to appeal the decision... Mr Alaali says he was beaten by police in Bahrain when he was arrested last year. He sought asylum in the UK in mid-February, fleeing a country that rights groups say continues to use torture to crush dissent. John Horne of the activist group Bahrain Watch said: 'It is an absolute betrayal of the Government's claims to uphold human rights when it seeks to deport a young activist who fled persecution and now faces imminent imprisonment and possible torture.'"
From yesterday's Sunday Times/YouGov poll:
That would give Labour a majority of 32.
Boris Johnson, writing in the Telegraph, says: "You kip if you want to – but only one party can offer real change."
Gary Younge, writing in the Guardian, says: "Racism is far more than old white men using the N-word."
Oliver Wright, writing in the Independent, says: "Ed Miliband sells 'fairer' Britain to voters."
Got something you want to share? Please send any stories/tips/quotes/pix/plugs/gossip to Mehdi Hasan (mehdi.hasan@huffingtonpost.com), Ned Simons (ned.simons@huffingtonpost.com) or Asa Bennett (asa.bennett@huffingtonpost.com). You can also follow us on Twitter: @mehdirhasan, @nedsimons, @asabenn and @huffpostukpol
Popular in the Community