An 18-year-old woman thought she was going to be raped when Rolf Harris pinned her against a wall and groped her, a court has heard.
Giving evidence at Southwark Crown Court on Tuesday, the woman, who cannot be named for legal reasons, said she met the entertainer while on holiday in Malta in 1970.
Harris is accused of 12 counts of indecent assault on four alleged victims between 1968 and 1986, all of which he denies.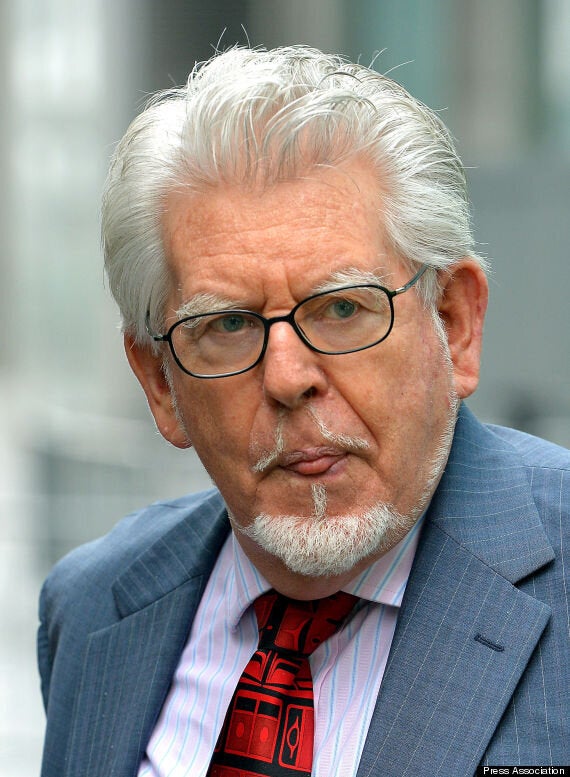 Harris denies 12 counts of indecent assault
The woman's boyfriend hurt his foot while swimming, and Harris, now 84, came out of a bar and helped them find a doctor, the jury was told.
The woman then went back to thank the artist, and he took her into a side room, offering to show the aspiring art student some of his work.
It is claimed he pinned her against a wall and gave her a "slobbery" kiss before touching her intimately.
The woman said of the kiss: "It was quite slobbery. It wasn't very nice. I was quite shocked, more shocked than anything."
She told the jury at first she was "a bit flattered", and that after the alleged assault Harris "just stopped whatever he was doing and just cuddled me".
Prosecutor Sasha Wass QC asked her: "Did he say anything?"
She replied: "(He said) 'I'm sorry'."
The woman said she was "just in shock really, happy that was it. I thought I was going to be raped. I don't know what I thought really."
Afterwards the pair went back to the bar, where the woman told the court she had her photograph taken with Harris.
She said the entertainer squeezed her arm "really tight" as the picture was taken.
"It was as if it was an apology," the woman said.
The alleged victim is not named on the indictment because the claimed incident happened abroad before such crimes could be prosecuted in the UK, but has been called as a prosecution witness.
Harris listened from the glass-walled dock, with wife Alwen and other family members including his niece and brother-in-law watching from the public gallery.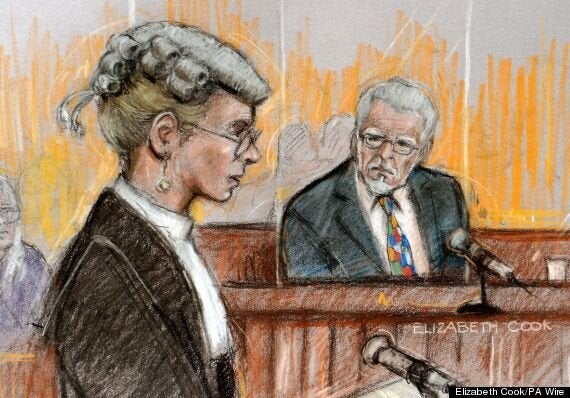 Harris pictured earlier in the trial in a court sketch
The court also heard from two other women who are supporting prosecution witnesses and were flown over from Australia and New Zealand to give evidence.
The first of these women told the jury of six men and six women that when she was 11, Harris told her that he wanted to be the first person to give her "a tongue kiss".
It is claimed that Harris got her in "a gentle hug" and kissed her, putting his tongue in her mouth.
The court heard that the woman was assaulted by her cousin when she was 17, but was forbidden from reporting it by her parents.
In cross-examination, the woman said the incident with her cousin brought up a recollection of the alleged Harris abuse.
"It triggered my memory to bring it up again," she said.
But the woman rejected a suggestion by Sonia Woodley QC, defending, that she had confused the incident with her cousin and the Harris claim.
The third woman broke down as she said she saw "the dark side" of Harris when he groped her as they danced.
Jurors were told that she was 16 or 17 and was working for a wine company at a party in New Zealand in 1970 when she met the entertainer.
At first he was "very friendly and very relaxed", and was "being stupid" posing for pictures, she told the jury.
Harris then asked her to dance, slid his hand onto her bottom and put it between her legs, the court heard.
Breaking down, the woman told the court: "We were dancing and we had had a photo taken, he was talking to me and I felt relaxed, comfortable. In a flash, in a moment... I saw the dark side of a man who I thought could be trusted.
"I was in a public place, he slid his hand down my back against my bottom and then in a moment put his hand up my skirt and tried to put his hand in between my legs."
After the woman felt Harris's hand between her legs, she said she pushed him away and left.
Last year, after media reports that Harris had been questioned by police, she said she felt relieved.
She told the court: "I thought 'they've finally got the bastard'.
"It was all those years later but it was unbelievable the relief I felt."
In heated cross-examination by Woodley, the woman was asked to explain why she had said Harris "tried" to put his hand up her skirt in an initial police statement.
The witness told the barrister: "Don't try to twist things please."
She went on: "I can clearly recall what happened."
In another corrected statement the woman had not mentioned Harris's hand between her legs, the court heard.
The woman asked Woodley: "How do you sleep at night?"
The barrister replied: "I'm afraid I have a job to do and I have to ask you questions."