Sainsbury's has apologised after it was accused of racism for using a slave costume to encourage customers to buy a copy of Best Picture Oscar-winning film 12 Years A Slave.
This image of the costume on a mannequin emblazoned with stickers saying 'NEW', was posted to Twitter by a surprised shopper who said it was "in very poor taste".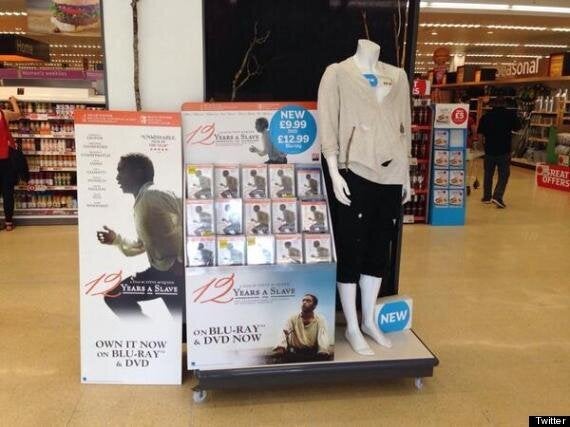 The outfit appeared next to DVD and Blu Ray copies of the film
The costume features the black trousers and beige shirt worn in the film by slave Solomon Northup, played by Chiwetel Ejiofor.
It carries a price tag the same as the cost of the film on DVD, implying the costume itself was not for sale but was only promoting the film.
The suggestion that a costume was an appropriate way of promoting a harrowing film about slavery in pre-Civil War American failed to get much support on social media.
One tweeter described it as "shocking".
Another asked: "How is this EVER ok? Appropriating black struggle as a look, nice #racism"
Sainsbury's said the mannequin, which was on display in the Heyford Hill, Oxford branch, "should never have gone up in the first place".
In a statement, the store told The Huffington Post UK: "We can only apologise. It's been taken down from the Heyford Hill store and clearly should never have gone up in the first place."
The Twitter account @sainsburyspr has been forced to repeat this line to a lot of people asking about why the costume went up.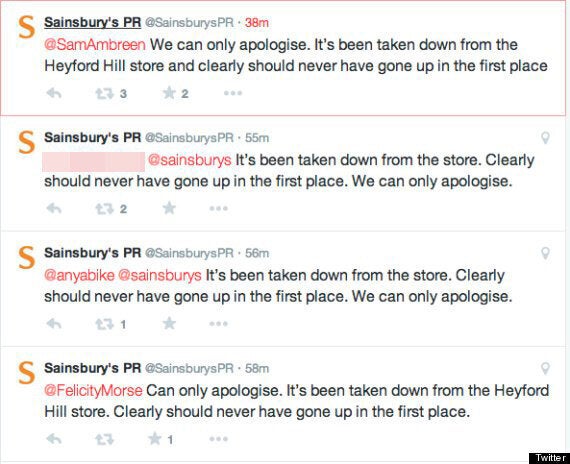 The film, directed by British filmmaker Steve McQueen, came out on DVD and Blu Ray in the UK last Monday.
Related