A dog owner has said she is "over the moon" at being reunited with her stolen pet following a Facebook appeal. June Gosling launched an online plea after Cookie, her six-month-old Staffordshire-mastiff-American bulldog-cross bitch, was taken from her home.
She had left the puppy inside her property in Erith, south-east London, at 9am on May 14, but when she returned at 2pm a ground-floor window was wide open and her pet was missing. Following her Facebook appeal, Gosling received several messages saying a dog matching Cookie's description had been seen around Picardy Street, Belvedere.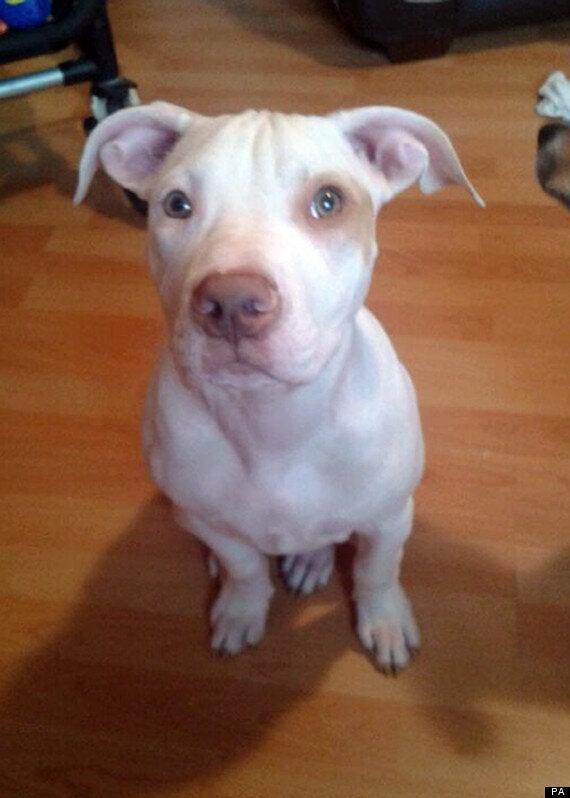 Cookie was found six days after going missing
Six days after being taken, police manning a crime prevention stall in the same street stopped a man walking a dog which looked like Cookie. The animal was taken to a local vet by the officers and, as it was microchipped, the scan proved conclusively that it was the missing puppy.
A relieved Gosling said: "I am over the moon to be reunited with my baby Cookie. She is family to me, it was like losing a child. It was the worst week of my life and I had almost given up hope but thanks to some wonderful members of the public, Facebook and the police, in particular PCSO Jay Worrall, I have my puppy back. I couldn't be more happy. Being reunited with her was an incredible relief. I won't be letting her out of my sight." Cookie and June Gosling... reunited after the appeal
A 23-year-old man arrested on suspicion of handling stolen goods was freed on police bail pending further inquiries, the Metropolitan Police said. Acting Sergeant Chris Molnar, from the Belvedere safer neighbourhoods team, said: "This is a lovely story that shows that social media, when used correctly, can give us huge assistance with investigating an allegation of crime.
"The initiative shown by the owner, residents and then officers who immediately followed it up has ensured that Cookie has returned home where she belongs."
To celebrate Cookie's return, enjoy this selection of dog photobombs...
Popular in the Community