A new-age breast enhancement aims to combat sagging breasts by implanting an 'internal bra' underneath the skin.
The plastic surgery procedure claims to provide patients with "firm, young-looking breasts that keep their shape over time".
During the 45-minute operation surgeons implant 'silicone slings' underneath breast tissue, which is attached to the rib cage by fine silk straps and titanium screws.
According to Orbix Medical, who developed the treatment, the operation is invisible under the skin and involves minimal scarring.
"The Orbix Breast Support System eliminates breast re-sagging and minimizes scarring following breast procedures, keeping the shape and position of the breast and nipple years after the procedure," reads the website.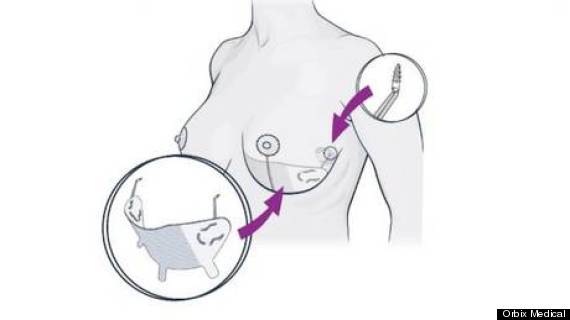 Reports claim that the surgery could offer an alternative to traditional breast surgery, which, according to the NHS, is the most common form of cosmetic surgery carried out on women in the UK.
The operation - which is has been approved by the EU, but is under review in the US - is available at at Guy's and St Thomas' Hospital, London.
The surgery currently costs £6,000. But, according to reports from The Sun, the procedure could be made available on the NHS.
SEE ALSO:

Bride Demanded Boob Job To Fix 'Cocker Spaniel Ears' Breasts Before Getting Married

Woman Given Boob Job For Mother's Day Says It Has 'Transformed' Her Life

Woman Wanted Back Pain Cure, Ended Up WIth Nipples Surgically Placed Too High To Be Covered By A Bra
Earlier this month, the first three trial operations were carried out at the hospital by Professor Jian Farhadi. But other surgeons say more trials need to be carried out to see if the treatment is an effective alternative.
"There is a need for clinical trials with adequate numbers and follow ups to prove the efficacy and safety in the long term," Professor Kefah Mokbel of the London Breast Institute told the MailOnline.
"One of the things to be looked into is if fixing silk straps to the ribs will have side effects. In a standard breast operation the silicone implants are inserted behind the breast to minimise the risk.
"These cups go under the skin, so the question is do we know the long-term effect to women, will they develop scaring and will the internal bra affect the shape of the breast in the long term?
"It is premature to say it is a solution to the issue of sagging breasts."