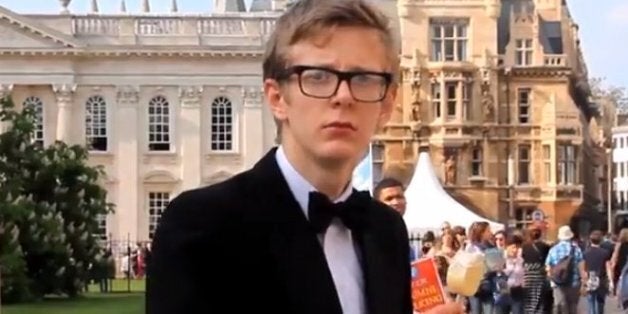 Forget raising money for cancer, or life-saving treatments, one Cambridge University student is hoping to raise £5,000 to pay for a private helicopter to whisk him away to his sister's wedding.
First year student Louis McBride has launched the ambitious campaign to charter a helicopter from his final exam to his sister's wedding as he has just 45 minutes to get from his physics exam at King's College to the wedding in Wiltshire. This predicament means that a helicopter, which could cost up to £5k, is his only viable method of transport.
The drive would take four hours, and though the 19-year-old has persuaded staff to let him sit the exam early, he has not been allowed to miss it. This has left poor Louis in what he has called "a painful situation", saying: "I'd be absolutely distraught not to be able to make it, and not to be able to support my sister on her special day."
The teen has, therefore, taken to social media for publicity and support.
His light-hearted video, filmed with friends, seems to have succeeded in spreading the word. It has quickly become a YouTube sensation, with the entry attracting nearly 10,000 views in two days.
Rather surprisingly, members of the public have coughed up a whopping £2,155 worth of donations in one week. Louis, who told The Independent he was "shocked", has greeted the funds with gratitude. He thanked the "lovely people out there" and said that he was "hopeful both for mine and my family's sake - that we manage to raise the full amount!".
His page has come under scrutiny, with various comments lamenting how £5000 could be better spent. Joshua Phillips commented that: "£5000 is a ridiculous amount of money! you could rearrange the wedding for half of that!".
Daniel Dyer also added that: "It wouldn't have been that hard for her (sister Zoe) not to schedule her wedding in the middle of your exams".
Louis, however, has not been deterred. He has pledged any excess donations to the East Anglian Air Ambulance, and stated that everything raised will be donated to them if his fundraising goal is not reached.