Foreign Office official Sian MacLeod told Russian deputy ambassador Alexander Kramarenko she "could not be expected to comment upon reports of private conversations" and instead discussed the volatile situation in Ukraine.
The Prince's comment that "Putin is doing just about the same as Hitler" was made to made to 78-year-old Marienne Ferguson during a visit to Canada with the Duchess of Cornwall and was thought to be a reference to Russia's annexation of Crimea and the ongoing instability in Ukraine.
A Foreign Office statement on the meeting between Ms MacLeod and Mr Kramarenko this afternoon made no further reference to the Prince's comments. A spokesman's comments instead focused on the situation in Ukraine, calling on Russia to "restrain those responsible for violence and disorder" and condemning Moscow's actions ahead of this weekend's presidential elections.
The spokesman said: "This weekend, the Ukrainian people will vote in one of the most important elections in their history. As the Foreign Secretary has repeatedly made clear, they have the right to choose their own government in a free and fair election and Russia must exercise its influence to restrain those responsible for violence and disorder.
"People and governments across the world strongly condemn Russia's actions in Ukraine including the illegal annexation of Crimea, and the provoking of instability on the territory of a sovereign neighbour. The UK urges Russia to step back from actions that cause instability and conflict, and lead to international condemnation: continued instability in Ukraine is in no-one's long term interests."
Meanwhile, a statement issued earlier by the Russian embassy in London denounced the Prince's comment as "outrageous". And Russian Foreign Ministry spokesman Alexander Lukashevich said that Moscow "noted media reports quoting Prince Charles's statement, which he reportedly made during a private conversation on a trip to Canada".
He added: "If these words indeed were said, they don't befit a future British monarch." The Prince's comments are particularly sensitive for the Russian Federation, which suffered terrible losses fighting Hitler, and come weeks after its annual Victory Day celebrations marking Germany's capitulation to the Soviet Union in the Second World War.
Charles is due to meet Mr Putin at commemorations for the 70th anniversary of the D-Day landings in Normandy on June 6. Prime Minister David Cameron declined to comment on the Prince's reported remark except to say that "everyone is entitled to their private opinions".
But Labour leader Ed Miliband said Charles "has got a point" and suggested many Britons shared the Prince's concerns about Mr Putin's actions in Ukraine. Deputy Prime Minister Nick Clegg said Charles was "free to express himself".
"People can make different comparisons from different periods of history if they wish," he said. "All I would say is that, right now, I think the behaviour of Putin is not only menacing to Ukraine but it is very destabilising for Europe more generally. That is why we continue to say to the Russians, continue to say to Vladimir Putin: 'Step back, de-escalate. It's not in Russia's interests, let alone anybody else's, to continue ratcheting up this tension'."
But UK Independence Party leader Nigel Farage, who has previously expressed his admiration for the Russian president, rejected the comparison to Hitler. "The difference, I think, is that, right from the very start, Hitler was expansionist and we haven't seen much evidence of that until now from Putin, and arguably what's happened in the Ukraine is because he's been poked with a stick by the rest of the world," he said.
A spokesman for Clarence House said: "We do not comment on private conversations. But we would like to stress that the Prince of Wales would not seek to make a public political statement during a private conversation." Clarence House declined to comment on the Russian Embassy's remarks. "We have no further comment to make at this stage," a spokeswoman said.
Charles is back in the UK after flying home from Canada. His next official public engagement is on Saturday, when he is due to attend the Music In Country Churches concert at the Church of St Peter and St Paul in Northleach, Gloucestershire.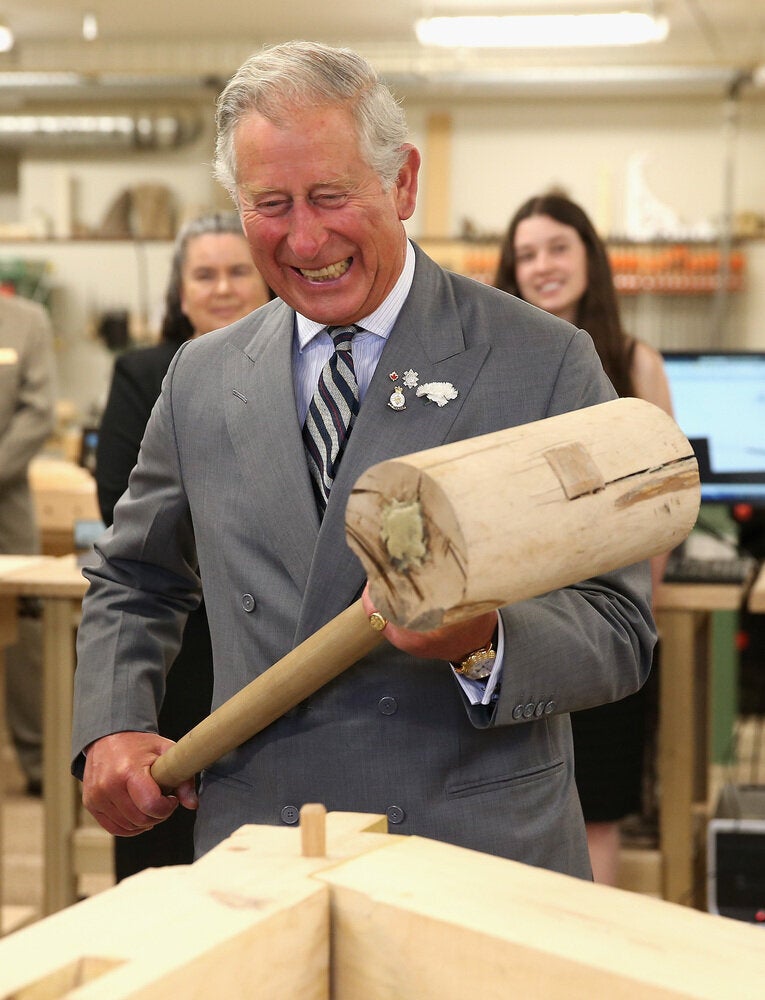 The Prince Of Wales And The Duchess Of Cornwall Visit Canada
Related