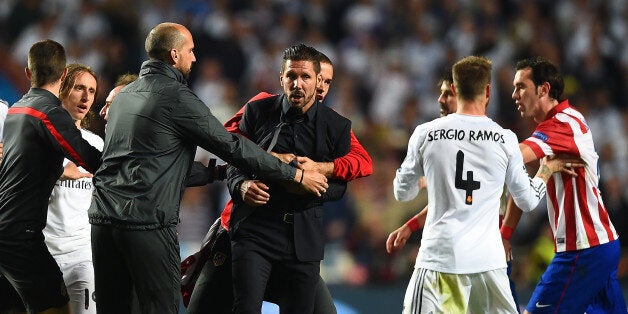 Here are four talking points...
SIMEONE ONLY HAS HIMSELF TO BLAME
You could have guessed Diego Simeone's nationality after the Atlético dam burst in extra-time. His passable impression of Antonio Rattín, when he interrupted the final and looked prepared to throttle Raphaël Varane and the Dutch referee on separate occasions, should not taint a genuinely remarkable season for his side, yet his frustration at the five minutes added on to regulation time masked the wider issue of starting Diego Costa a week after he suffered a hamstring injury at Camp Nou.
Costa lasted eight minutes and 55 seconds, becoming the earliest withdrawal in a European Cup final since 1985, as Atlético essentially played out the match a substitute lighter than their opponents. The risk belatedly backfired when Ramos' equaliser effectively won the game. The oxygen was turned off for Atlético and the manner of Marcelo's goal, in which he was invited to stroll into the Rojiblancos' area to finish them off, highlighted the experience and naivety on the touchline. Ancelotti infused Real with the Brazilian full-back's energy, whereas Simeone, 10 years his junior, made defensive alterations and banked on a regulation time victory.
DI MARÍA OUTSHINES RONALDO AND BALE
Gareth Bale will be remembered as the man who clinched la décima, yet his hero status would not have been possible without the dogged dexterity of Angel di María. Often maddening and occasionally unperceptive on the ball, Di María, however, worried the Atlético defenders more than Bale or the toiling Cristiano Ronaldo. He drew two cynical fouls from Raúl García and Miranda to ratchet up the pressure on the opponents and it was his indefatigable surge into the area which elicited the save from Thibaut Courtois Bale finished on the rebound.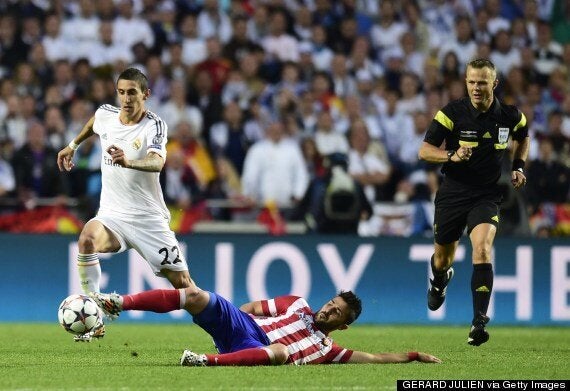 Di María was Real's best player on the pitch at the Estadio da Luz
The Argentine's work rate has improved immeasurably this season and his importance to Real is greater than ever when it seemed he would be sold, or marginalised, after Bale joined.
CASILLAS' SPAIN BERTH SHOULD NOT BE ASSURED
Tiago Mendes was the second Iberian to let Iker Casillas off the hook this year. Victor Valdés injury means Casillas will retain his starting berth in Spain's World Cup team, despite barely playing any domestic football and David de Gea's superior season, yet he is a liability for Real these days.
His inexplicable dash that led to Godín's goal was almost matched by his 12-yard hare which gave Tiago an opportunity to level in extra-time. Casillas encouraged a Borussia Dortmund rally in the quarter-finals, too, with a similarly ill-advised sprint.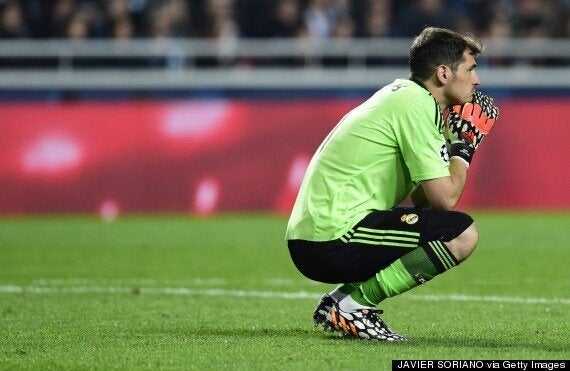 Casillas almost cost Madrid a 10th European Cup in Lisbon
A Teflon figure who was informed otherwise by José Mourinho, that Carlo Ancelotti retained Diego López for Real's La Liga matches reflects Casillas's diminishing status at club level. He is fortunate De Gea has never played for the Spanish senior side and Pepe Reina is an inferior stopper.
ANCELOTTI'S LEFT-BACK DILEMMA
Fabio Coentrão is a better defender than Marcelo, yet Marcelo is a better attacker than Coentrão and Ashley Cole is, arguably, a better left-back than both of them. If Carlo Ancelotti was tempted to work with the former England international he managed for two years at Chelsea, he might have to reconsider after Marcelo galvanised a rudderless Real.
Working in tandem with Di María, the south American pair's telepathy, as opposed to the meddling Dani Carvajal on the other wing, sharpened Real's attack and the pair contributed to the second and third goals. That Cole is available on a free will appeal to Ancelotti, who only prevented Coentrão's loan move to Manchester United last year because Real could not buy another left-back.
Ancelotti has mulled over Marcelo and Coentrão so often this season and Cole could provide an antidote, yet the luxury of switching between the duo is an enviable one several coaches would wish for.